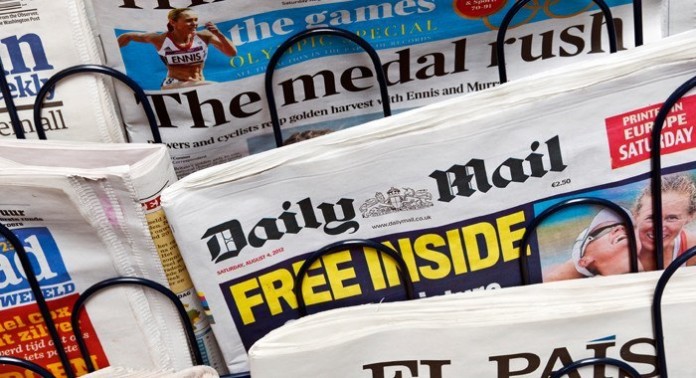 The Daily Mail and sister paper the Mail on Sunday have claimed victory in the latest round of ABCs released for the last month of 2018.
Parent company DMG Media said the December figures showed the two papers were "going from strength to strength", beating their best market share figures for the fourth month running.
The figures show the Mail's year-on-year sales fell by less than the industry average across its Monday to Friday, Saturday and Sunday editions, which saw industry-wide decreases of 8.3%, 6.6% and 7.6% respectively.
The Mail again leads the pack on Saturdays, outselling its closest rival, The Sun, by a
six-figure amount.
As DMG noted, five years ago it was lagging behind its competitors, but grew its market share in December to almost 29% year on year.
DMG said it was also outselling the Mirror, Express, Star and Guardian combined totals on newsstands on Saturdays; on Sundays it sells more than the Star, Telegraph, Express and Observer.
Mail's chief marketing officer, Roland Agambar, said: "Mail Newspapers has every reason to be proud of this performance as it is a true indicator of the strength of our titles.
Our focus on promoting market-leading content is clearly paying dividends and both titles are performing better than ever relative to the market.
"Unlike some of our competitors, we do not rely on discounted subscriptions or inflating our sales with bulk copies."
Elsewhere, The Times and sister paper Sunday Times also bucked the general trend, experiencing smaller decreases than their rivals.