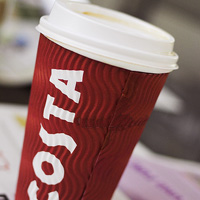 Costa has performed a U-turn on its decision to stop providing free newspapers in its outlets after RN challenged the move – saving retailers up to £2.9m in lost accounts across the country.
The coffee chain has more than 2,300 stores in the UK and often uses independent retailers to supply its newspapers.
Mike Brown, of Brown's Newsagent, Stokesley, North Yorkshire, was recently told his local branch would stop providing newspapers from this week, with a spokesperson telling RN: "We have noticed since the introduction of free wi-fi the number of customers using digital devices has increased, with use of hard copy newspapers declining."
However, Mr Brown has been told the decision has been reversed, saving him from a loss of £20 per week if the account was closed. "It looks like Costa has listened and it's a victory for us," he said.
Ketan Patel of Purley Bon Bon in Purley, Surrey was also told his local branch would be can-celling its supply of four newspapers a day, but had a call from its manager this week informing him the policy had been reversed.
Mark Dudden, of Albany News at the Post Office in Cardiff, receives £120 a month from his local Costa for supplying three newspapers a day.
"It would be a concern for me if coffee shops did start going that way because I do have a couple of other cafés I supply which also pay up to £40 a week. It's usually three papers a day but it has cut back on the number over the years," he said.