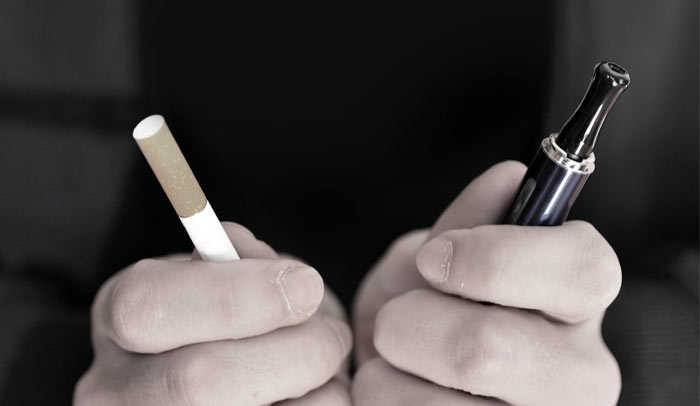 In the past couple of years, electronic cigarettes have transformed into mainstream profit drivers that continue to grow sales and distribution by the day. But, as RN's data partner EDFM discovers, 50% of independents are missing out on this opportunity
Not many years ago it would have been impossible to imagine people satisfying their nicotine cravings in public by openly sucking on imitation cigarettes which produce an odourless vapour. But today it is commonplace to see people using electronic cigarettes in pubs, restaurants and offices.
Initially, electronic cigarettes were only available from pharmacies or online, but in the past two years they have become widely available in convenience stores.
At EDFM, we have been monitoring this development from our sample of over 2,000 independents nationwide and have seen this market grow threefold from £6.7m in 2012 to over £20m as 2013 closes.
The real reason for this astronomic growth is a rapidly increasing demand for smoking cessation aids or tobacco substitutes. Soaring distribution in independent stores shows that retailers have cottoned on to this trend. At the beginning of 2012, less than 4% of shops sold electronic cigarettes. Twelve months on, 28% had them in stock. By the last week of November, over 50% were stockists. What is surprising is that 50% of retailers – mainly smaller, lower turnover stores – are still not participating in this market.
What is surprising is that 50% of retailers – mainly smaller, lower turnover stores – are still not participating in this market.
As we moved into autumn, increasing retailer engagement was matched by increasing numbers of suppliers recognising the sales potential for and in independent stores, and customer choice widened. Our data shows that fewer stockists now have only one brand available. In November 2012, 93% of stockists sold just one brand. Today, that figure stands at 77%. Last year, nine brands were available in our shops, but the leading two, Nicolites and E-Lites, commanded 89% of sales value. One year on, these brands have a 66% share as the number of brands available has risen to 29. Skycigs has become a very big player, and emerging brands include Ibreathe, Njoy, VIP and Gamucci.
While some might view electronic cigarettes primarily as aids for quitting smoking, the data cannot tell us what proportion of users still smoke cigarettes and use electronic cigarettes as a substitute where smoking is prohibited, and what proportion have stopped altogether.
My view is that those who have invested in starter kits and buy refills are more likely to be quitters, and those who buy disposables are more likely to be substituters. The proportion of sales attributable to starter kits has fallen year on year, whereas refills have improved their share to almost 60%. Disposables have shown a small decline in share.
Another interesting development is the range available; not only the proliferation of brands but also flavours. In the early days, the choice was basically regular or menthol. Nowadays, the range available brings to mind the fruit flavoured cider market. Bubble gum, watermelon, strawberry, grape and cherry are among the flavours available, other than regular and menthol. A year ago, only cherry was available in our shops and sold very little. Now, non-standard flavours account for 7% of total sales, of which almost 6% are cherry.
This week New Year's resolutions are being made made, which will inevitably add to sales. Non-stockists should give electronic cigarettes some serious consideration.
Comments
This article doesn't have any comments yet, be the first!
Become a Member to comment
Register to comment and get exclusive content and subscribe to the online and print versions of Retail News.
Become a member