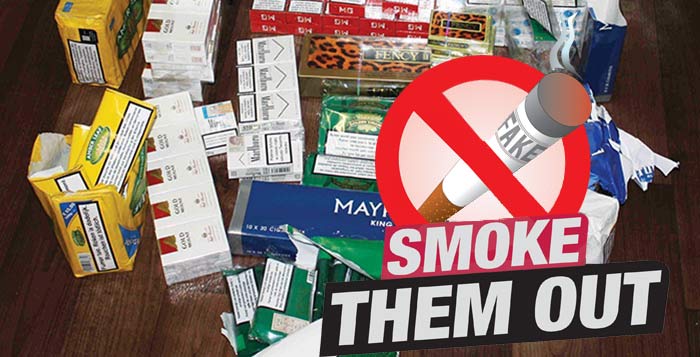 Retailer C
"Shops are opening overnight. I could walk into six shops right now, blatantly selling it. The shops look horrible as well – they're just a front for black market tobacco. We've rung our local MP, but they don't give a monkeys."
A £65,000 tobacco raid in Scunthorpe; £20,000 seized in Dewsbury; and a haul of tobacco and alcohol in Southampton with an estimated duty and VAT value of £8,500. That's just last week's headline news.
The illicit tobacco hauls keep coming. But over the past two weeks, Retail Express has heard first hand from retailers on the front line about how the ongoing scourge of black market tobacco is making their businesses suffer.
Angry retailers have told us that they have been let down by HMRC, they have spoken to their local MPs – without any success – and that even when stores are raided, they instantly re-open elsewhere in new premises. 
Retailer D
"You never see these guys in the cash & carry. The stores only last a year, then they get raided,
but then they reopen. I used to sell five outers of Amber Leaf a week. Now it's two, if I'm lucky."
Imperial Tobacco's Peter Nelson urged retailers to keep it simple: "If you suspect it, report it", he said.
To help educate those that matter – including politicians, retailers and the general public – JTI has launched a new illegal trade booklet, which gives guidance on how everyone can take a stand. 
The booklet goes on: "It is vital that retailers report criminals they suspect of selling illegal cigarettes before all community retailers get tarnished by those who decide to sell illegal cigarettes in their shops."
Just a few quotes from retailers that spoke to Retail Express are shown in this article, alongside JTI's booklet. We know this is just the tip of the iceberg.
We urge retailers to get in touch with us about stores in their area selling illicit tobacco. 
We will work with the authorities to ensure that we do what we can to Smoke Them Out. 
Call us ANONYMOUSLY on 020 7689 3376. 
Comments
This article doesn't have any comments yet, be the first!
Become a Member to comment
Register to comment and get exclusive content and subscribe to the online and print versions of Retail News.
Become a member