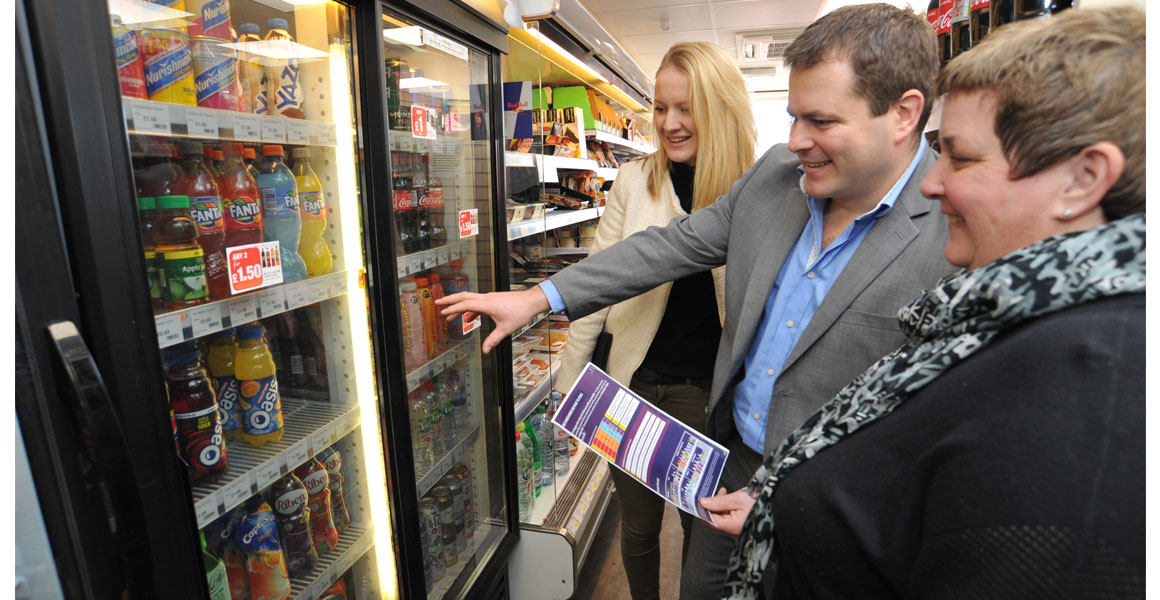 An eye-catching soft drinks display is critical. Ahead of the new Soft Drinks Industry Levy, Retail Express joined Lucozade Energy's Claire Keaveny and Jonny Acton to learn how a small store can become a soft drinks destination.
Looking for part 2 at Sue's Costcutter Epsom? We give her some tailored advice here.
Did you know?
The Soft Drinks Industry Levy (sugar tax) starts on 6 APRIL. The Lucozade Energy range is exempt as all drinks contain less than 5g of sugar per 100ml.
Focus on
Anita Nye, Eldred Drive Stores (Premier), Orpington, Kent
"In our 1,200sq ft store, space is at a premium. We're on a busy shopping parade, so we stock a balance of value lines, mainstream brands, low-sugar varieties and premium soft drinks to appeal to our broad customer base. The changes to our soft drinks display are logical and make it stand out a lot more – I'm very happy."
Expert advice
Claire Keaveny & Jonny Acton, Senior brand manager & Customer service manager, Lucozade Energy
"Anita and Raju have a busy and good-looking shop. However, shoppers want to find their favourite products quickly so highlighting bestsellers like Lucozade Energy Orange and Original in the centre of their fixture will capture their attention. In light of the growth of low-sugar drinks, we've increased facings of Lucozade Zero as 73% of the brand's sales are additional spend within the sports and energy category. This means you can attract sugar-conscious shoppers who may not have considered buying energy brands previously."
Before:
Challenges and changes
• Key products weren't obvious due to their position. Placing bestsellers, like the full range of Lucozade Energy flavours, in the centre helps shoppers make quick decisions.
• Low-calorie options weren't next to original products. Ensuring low and no-calorie drinks, such as Lucozade Zero, are stocked next to core varieties means shoppers won't miss them.
• Products were arranged by price in the chiller. Merchandising them by type encourages customers who haven't considered a premium brand to trade up.
Key lessons for your store
1. Ensure popular low and no-calorie options such as Lucozade Zero are placed beside core flavours
2. Give bestsellers such as Lucozade Energy's Orange and Original flavours prime position in the chiller
3. Block drinks by category, rather than price, to boost visibility of higher-margin products
What happens next?
In the next feature Claire & Jonny visit Sue Nithyanandan in Epsom to see a shop with a completely different type of chiller.