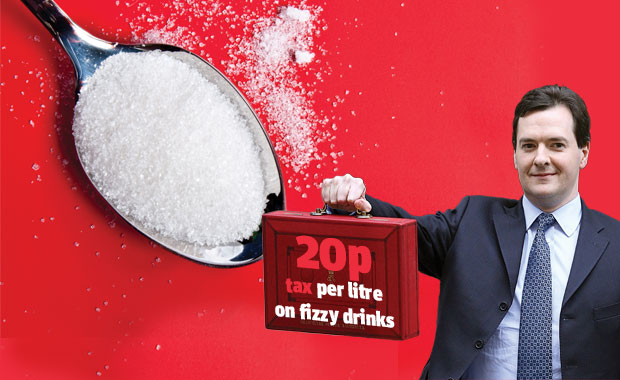 Health lobbyists have called for Chancellor George Osborne to use the 2013 Budget to impose a 'sugar tax' of 20p a litre on fizzy drinks.  In last year's Budget, the Chancellor was forced into a humiliating backtrack over his decision to tax hot takeaway food such as pasties, and with the 2013 Budget due on March 20, retailers fear fizzy drinks could be the next product on Mr Osborne's hitlist.
The proposed levy, backed by more than 60 health pressure groups, is seen by some as the latest step towards a nanny state which is burying small shops under increasing layers of legislation. Last March, leading suppliers warned Retail Express that sugary and fatty foods, along with alcohol, were in line to be regulated in the same way as tobacco.
Gavin Partington, director general of the British Soft Drinks Association, said: "Obesity is a serious and complex problem, but a tax on soft drinks, which contribute just two per cent of the total calories in the average diet, will not help address it."
Leading soft drink suppliers say they have already taken steps to encourage consumers to switch to no or low-sugar alternatives.
Industry insiders have told Retail Express that a fizzy drink tax, just like Osborne's doomed pasty tax, is unworkable in practical terms – because it would need to cover all drinks with sugar, including fruit juice.
Sustain, the pressure group behind the sugar tax proposal, is branding sugary drinks "mini-health time bombs" and says that taxing them could raise £1billion per year to pay for free school meals.  Among the 61 bodies that have so far signed the demands are the UK Faculty of Public Health, the Association for the Study of Obesity, the Academy of Medical Royal Colleges, the New Economics Foundation and the World Cancer Research Fund.  A spokeswoman for the Treasury said the department does not comment on speculation about what will be in the Budget.
What are your views of the proposals?  Let us know in the comments below
Instead of wasting time on ridiculous and impractical ideas such as taxing pasties and fizzy drinks, George Osborne should use the Budget to help and focus on the issues that really matter – like making sure business rates are fair for smaller shops, cutting back on petty regulations and minimising the rise in tobacco and fuel duty
Comments
This article doesn't have any comments yet, be the first!
Become a Member to comment
Register to comment and get exclusive content and subscribe to the online and print versions of Retail News.
Become a member