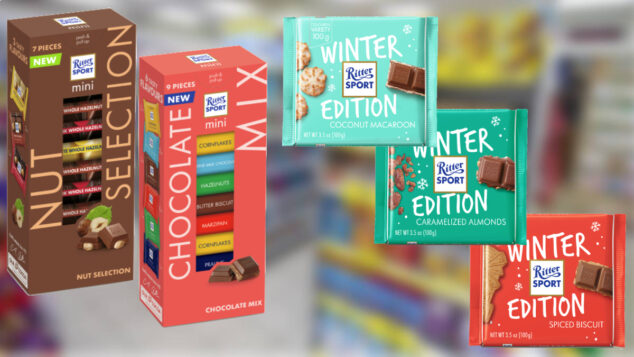 Ritter Sport has launched its 2021 festive range, with its three Winter Edition bars returning in new matte film packaging alongside Mini Tower Chocolate Mix, as well as a new Mini Tower Nut Selection.
The Winter Edition block lineup includes Caramelized Almonds, Spiced Biscuit and Coconut Macaroon varieties, each with an RRP of £1, available from Bestway, Rayburn and Dhamecha.
The new Mini Tower Nut Selection, which features hazelnut squares wrapped in milk, dark or white chocolate, has seven pieces per pack, compared to nine pieces in the Chocolate Mix. Mini Towers are available to Spar retailers with an RRP of £3 or as a two for £5 promotion. Their primary packaging is fully recyclable.
The launch of the festive lineup comes as Ritter Sport saw its sixth consecutive year of growth in 2020, with its 37% annual growth ahead of the overall block chocolate category.
Read more product news