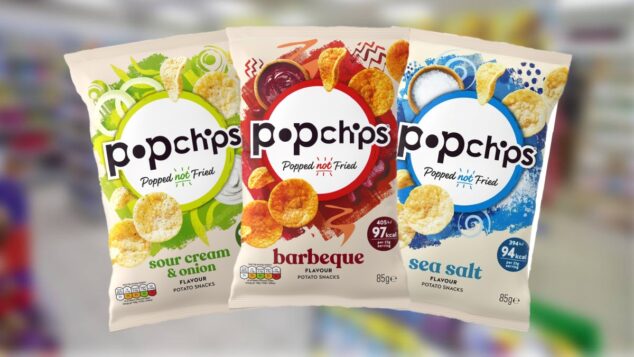 KP Snacks is launching a new campaign to drive awareness of its Popchips brand, which will include the brand's debut TV appearance.
The supplier has made a £2.3m investment in the brand that follows on from giving it a new pack design at the end of October last year.
According to KP, the aim of the campaign is to highlight the chips' non-fried nature, as well as their low-calorific content. The TV advert will run throughout March, before returning in September.
Popchips gets a modern makeover by KP Snacks
The investment comes as Popchips was recently ranked as the no.2 'Better for You' bagged snack brand after seeing 17.3% growth in the past year in its sharing bags.
It will also include sponsorships of various podcasts including Private Parts with Jamie Laing and Francis Boulle, Off Menu, and Shagged, Married, Annoyed, as well as social media content.
KP Snacks launches Aromatic Thai Chilli Coated Peanuts
Zoe Cashin-Howe, marketing controller at KP Snacks, said: "This is the first time that Popchips has been on TV and it comes at an extremely exciting time as the brand continues to grow within the healthy snacking market.
"Crisps, snacks and nuts products have remained hugely important in the wider healthy snacking space and the aim of this campaign is to drive awareness and trial, keeping Popchips front of mind for consumers looking for a tasty and balanced snack to share."
Read more product news