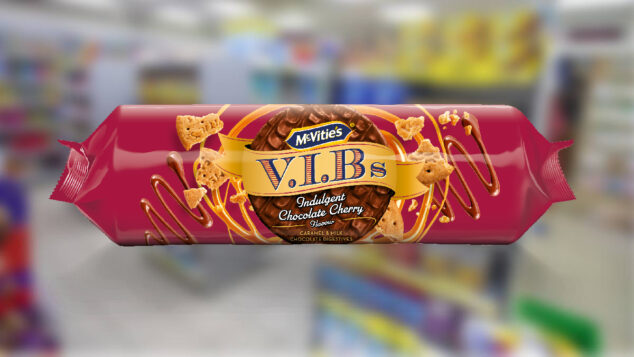 Pladis is expanding its premium McVitie's V.I.Bs biscuit range with the launch of a new Indulgent Chocolate Cherry flavour.
The new flavour will be available to convenience and wholesale from July, at an RRP of £1.79, following an initial launch in Tesco on 28 June.
Pladis to launch McVitie's Jaffa Jonuts hybrid biscuit
Its packaging will also be recyclable through Pladis' partnership with Terracycle.
The supplier is hoping that the new flavour will help the brand, which is worth £9.9m, drive sales among younger shoppers, who it says are looking for new flavours.
Pladis launches £1 PMP pack variety of popular Mini Cheddars trio
"Since launch, McVitie's V.I.Bs have had a key role in welcoming new shoppers – particularly younger shoppers – to the McVitie's brand," said Emma Stowers, McVitie's marketing director at Pladis UK. "In Fact, McVitie's V.I.Bs over-index with under-45s compared with the Everyday Treats subsector as a whole.
"In part, this is because, when it comes to sweet baked goods, almost three-quarters (74%) of shoppers between the ages of 16-34 are looking for more flavour innovation. This means we're always assessing how we can help retailers boost biscuit sales through trend-led flavour variations of our bestselling biscuits.
"What's more, cherry-flavoured products are hot property at the moment – and NPD incorporating this flavour grew by 23% over the past year."