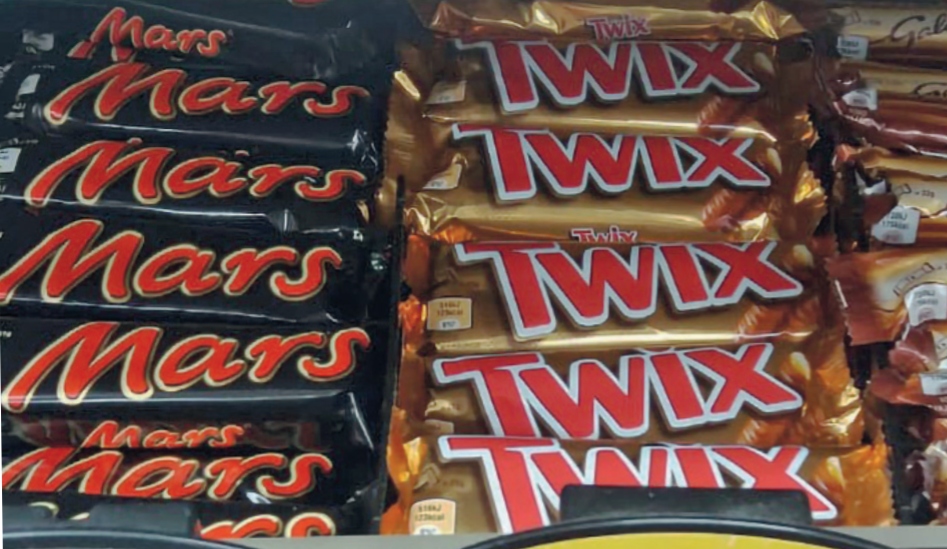 Independent retailers claimed they are owed thousands of pounds in backdated rewards by Mars Wrigley, after reps failed to visit stores for its 'Your Perfect Store' initiative.
The scheme offers retailers a monthly £35 wholesaler voucher in exchange for stocking Mars' chocolate brands and confectionery, once checked by a Mars rep.
However, retailers complained they were missing payments due to rep shortages, which had led the company to promise in 2018 that stores would receive "backdated vouchers when they were next visited by a rep". Despite the promise, Mars had altered its terms and conditions the year before to give just one month's worth of backdated rewards.
Mars Wrigley factory 'breakdown' – 24 top lines affected
Despite ongoing compliance with the scheme, a number of retailers said the confectionery giant failed to keep its end of the bargain by not keeping up its scheduled visits, and then failing to backdate payments at all.
A retailer who wishes to remain anonymous told betterRetailing they are owed a four-figure sum from the manufacturer.
"There was an 18-month period where I didn't see a rep once. I continued to adhere to the scheme, but they didn't want anything to do with backdating. It's outrageous that they just went back on their word," they said.
"I am still adhering to the scheme to ensure compliance, but it doesn't take away that there was a time that I lost out."
Skittles Giants launched by Mars Wrigley
Jeetinder Singh, owner of Meon Vale Londis in Stratford-upon-Avon, added the refusal to acknowledge the rewards owed to retailers has left a "sour taste in his mouth".
"It was in our best interests to make sure we had the right range to get the rewards," he said. "One day the rep just stopped coming in, and so we stopped receiving the rewards."
Those affected also stressed a difficulty in being able to contact Mars directly about the issue for a number of years.
Paresh Amin, owner of Newscentre in Basingstoke, claimed he was forced to contact the American head office after receiving no response from the UK team for three years.
Mars Wrigley debuts biggest launch on M&M's in decade
"Nobody got back to me, they didn't make it easy for me to contact them," he said. "I contacted betterRetailing about the issue a few weeks back."
In the last year, Mars has shifted the scheme to run from the Shopt app, but it still relies on rep visits to ensure compliance.
Singh stressed: "It's fine that things have moved to the Shopt app, but I am still owed rewards, and I'm really disappointed."
Meten Lakhani, of St Mary's Supermarket (Premier) in Southampton, said he is owed hundreds of pounds in rewards.
He explained: "I have been stitched up. If you are going to enter an agreement with retailers, Mars have to upkeep their side of the bargain."
Retailers slam drop in Mars Wrigley rep visits
In response to the claims, a Mars Wrigley spokesperson said: "Our 'Your Perfect Store' initiative has benefited thousands of retailers up and down the country, and we are proud of the significant support and financial commitment we have given to the channel.
"We have always believed that independent retailers are the backbone of our local communities and that's why we continue to invest in the channel – including a raft of promotional exclusives.
"From tailored offers to in-person and digital support – via the Shopt app – we are committed to helping stores grow their sales and the overall confectionery category.
"We have and continue to deliver the 'Your Perfect Store' initiative in accordance with our terms and conditions, which are available on the Shopt app.
"We want to reassure the retailer community that we'll be in touch with the retailers mentioned to listen to their concerns."
Mars Wrigley Confectionery discontinues GoodnessKnows
Mars has also increased investment in promotional activity this year, in person and through digital channel exclusives.
This includes the impulse exclusive Twix Winter Spice and an extended price-marked pack range.
Mars asked retailers who have any queries to call its dedicated hotline on 01844 262517, open Monday to Friday, 9am to 5pm.
Read more about Mars Wrigley