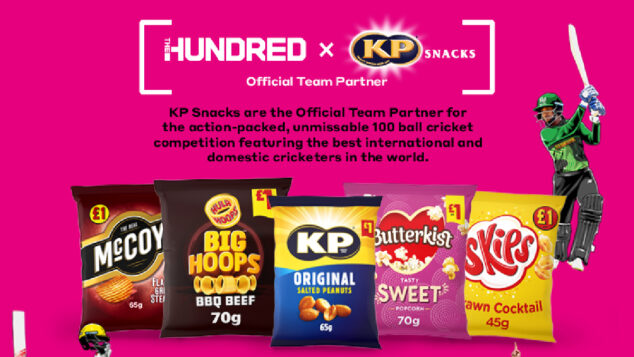 KP Snacks has announced its partnership with cricket tournament The Hundred.
The partnership will see participating teams feature KP Snacks brands Popchips, Pom-Bears, Tyrrells, KP Nuts, Hula Hoops, McCoy's and Skips on their shirts.
KP Snacks extends £1 PMP range to Tyrrells crisps
The brands will also feature in broadcasting and in-ad spots during broadcasting breaks, as well as promotion on big screens in cricket grounds.
KP is also offering free and easy ways for consumers to get engaged with cricket this summer through the Everyone In hub, featuring video content with The Hundred cricket stars.
KP Snacks expands Butterkist with Orange Chocolate flavour
The partnership comes as KP's portfolio is growing in value at 5.4%, ahead of the overall snack category.
Kevin McNair, KP Snacks marketing director, said: "We have partnered with The Hundred because we believe cricket is the perfect route to encourage families to get moving and enjoy more moments together. Over the next five years, our partnership with The Hundred aims to help thousands of families up and down the country to get more active together."