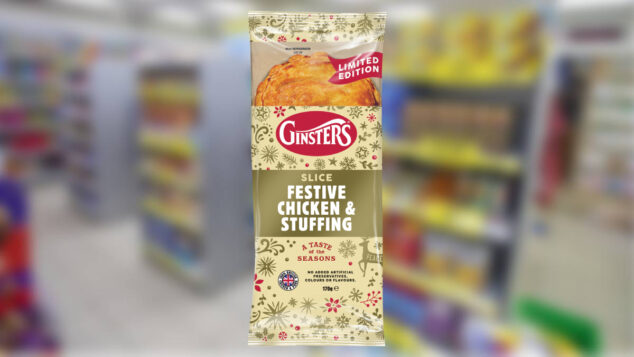 Ginsters has launched a limited-edition Festive Chicken & Stuffing Slice to drive sales through the Christmas season.
The 170g pastry is made with 100% British chicken and smoked bacon in a creamy sauce with potato, sage and onion stuffing, wrapped in puff pastry topped with sage crumb. It has an RRP of £1.70.
According to the supplier, savoury pastry sales peak over the festive period, especially with the introduction of limited-edition festive ranges, as 56% of consumers want to try something different during the period.
Nisa freeze orders disrupted after depot fault
Sam Mitchell, Ginsters managing director said: "As a limited-edition innovation, our new Festive Chicken & Stuffing Slice taps into the excitement of the Christmas period, benefiting from a halo effect in-store when interest in the category is high.
"The top five flavours in savoury pastry have remained the same over the last five years, so by introducing seasonal flavours to the core range for a limited time only, we will drive frequency and pull on the impulsiveness of the category to drive engagement and conversion."
Read more product news