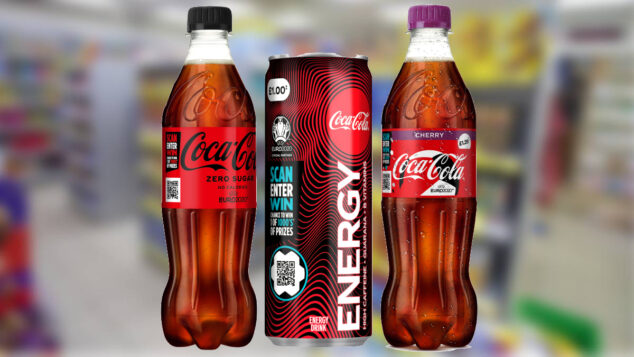 Coca-Cola European Partners (CCEP) is launching two new on-pack promotions in partnership with this summer's UEFA Euro 2020 football tournament.
From 25 May, consumers will be able to scan QR codes on 500ml bottles of Coca-Cola Original Taste, Coca-Cola Zero Sugar (including cherry and vanilla-flavoured varieties), and 250ml cans of Coca-Cola Energy and Coca-Cola Energy Cherry, to see if they have won one of thousands of prizes.
Walkers to launch four new football-themed crisps flavours as part of UEFA tie-up
Prizes include Hisense televisions, Just Eat vouchers, PS4 access codes, and Coca-Cola fan kits with sunglasses and scarves.
Additionally, from 1 June, shoppers buying multipacks of cans of Coca-Cola Original Taste and Coca-Cola Zero Sugar will have the chance to win one of 5,000 limited-edition Coca-Cola UEFA Euro 2020 branded footballs.
Every time a ball is claimed, CCEP will donate another ball to a local community through its partnership with football charity StreetGames. Winners can pick which region of the UK they would like the ball to be donated to.
Monster Nitro added to CCEP's range
Paul Hiskens, associated director for commercial development at CCEP GB, said: "The Coca-Cola brand always delivers during the football – and even with lots of sporting events cancelled last year, we still achieved 9% value growth in grocery and convenience. Our large PET bottles and multipacks of cans are performing especially well, with our 24-can multipack alone adding £111m in value over the last year. This is down to an increase in at-home occasions which we see as a continuing opportunity for the foreseeable future."
CCEP will support both promotions with a new marketing campaign featuring popular footballers close to match schedules. PoS material will also be available to retailers from My.CCEP.com from the middle of May.