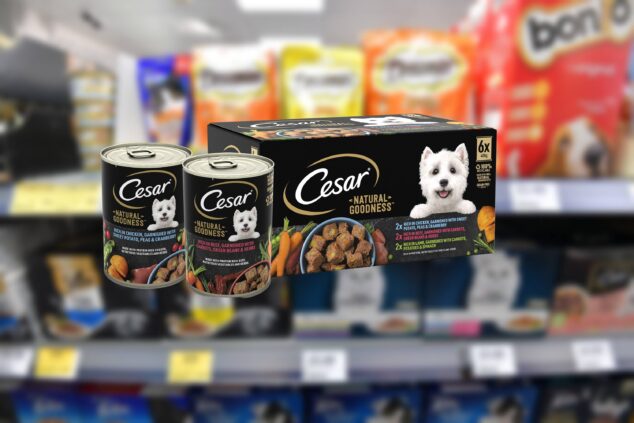 Mars Petcare has unveiled a new product range under its Cesar brand, Cesar Natural Goodness, designed for health-conscious pet shoppers and features the brand's first multi-serve format.
Available now in single cans and multipacks of six, Cesar Natural Goodness contain 100% natural ingredients with vitamins and minerals, are grain-free and contain ingredients such as cranberry, sweet potato and beans.
Mars Petcare reports surge in treat sales in convenience stores
Cesar Natural Goodness comes in three flavours: Rich in Chicken, garnished with sweet potato, peas & cranberry, Rich in Beef, garnished with carrots, green beans and herbs, and Rich in Lamb, including carrots, potatoes & spinach.
The launch will be supported by a TV and digital campaign, as well as in-store promotions.
Convenience sector is lockdown's top dog as opportunity in petcare grows
Arthur Renault, marketing portfolio director at Mars Petcare, said: "The Cesar Natural Goodness products tap into the premium and natural trends seen across the petcare category. The range also contains a higher meat and animal derivative content (12%) and is lower in fact than the Cesar core range, which will appeal to health-conscious pet owners.
"After our success in 2020, where Cesar's value growth eclipsed the combined value growth of four of our single service competitors, we knew we wanted to continue driving momentum. Half of our Cesar shoppers wanted to the brand to offer a multi-serve option and we listened.
"The range is designed to offer shoppers something even more luxurious to Cesar's core range. As it's clear that many pet owners are unwilling to compromise on the quality of the food they purchase for their four-legged companion, demonstrated by natural-inspired pet foods achieving a 14.8% growth over the past 12 months."
Cesar Natural Goodness
Rich in Chicken, garnished with sweet potato, peas & cranberry – RRP £1.80 (single) and £10 (6-pack)
Rich in Beef, garnished with carrots, green beans and herbs RRP £1.80 (single) and £10 (6-pack)
Rich in Lamb, including carrots, potatoes & spinach. RRP £1.80 (single) and £10 (6-pack)