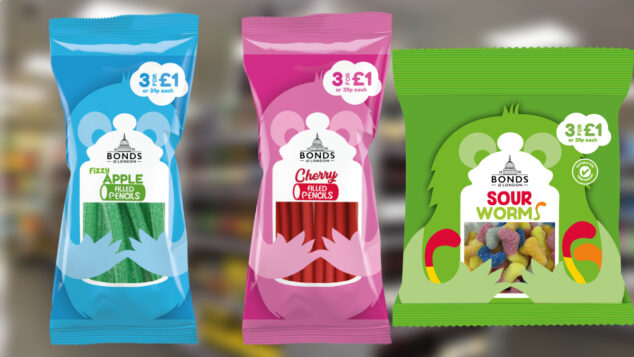 Bonds of London is adding new products to its children's sweet bags, as well as relaunching the range in new, reduced packaging.
Among the new additions are Jelly Monkeys & Bananas, Cherry Pencils, and Dolly Mix.
There are also new Sour Cherries, Sour Worms and Fizzy Apple Pencils, alongside Choccy White Mice and Pink Hearts.
Bonds releases Christmas 2021 confectionery range
The entire range will come in new packaging that uses minimal design and a reduced amount of plastic, without reducing the volume of confectionery within.
The bags have an RRP of three for £1, which the supplier says allows retailers to offer a diverse value range to shoppers.
Hancocks unveils 2021 Christmas confectionery range
Chris Smith from Bonds said: "We are really excited about the new advancements in the Bonds kids range. Not only are they introducing lots of exciting new product lines but they are revolutionising all kids' sweet bags packaging to be more environmentally friendly and attractive for customers. 
"Bonds sweet bag range has always been hugely popular among customers. They combine value pricing with favourite flavours for the confectionery match made in heaven.
"The new products are really exciting as they bring in so many new flavours and appeal to a huge audience. There really is something for everyone, whether you love chocolatey, gummy or fizzy confectionery."
Read more product news