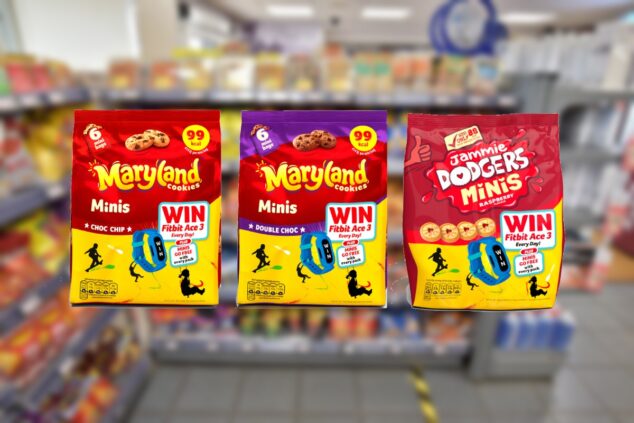 Burton's Biscuit Company has announced the return of its Minis get moving on-pack promotion as part of its ongoing initiative to encourage children to get active.
The on-pack promotion offers instant-win prizes across the Maryland Minis and Jammie Dodgers minis range of 99 calorie snacks.
Products news: Burton's Biscuit gets its mini's moving
Minis get moving gives shoppers the chance to win prizes and coincides with the summer holidays and back to school period, running now until the 23 September.
Prizes include a brand new Fitbit Ace 3 and each promotional pack includes a 'Kids go free' voucher, which is valid against hundreds of sports and leisure activities around the country.
News: Ferrero-related company acquires Burton's Biscuit Company
Kate Needham, market director at Burton's Biscuit Co, said: "This generation of kids is the least active ever. It is our mission to change that with the return of our 'Minis get moving' on-pack promotion which highlights our ongoing commitment to promote the role of portion-controlled snacks as part of a healthy balanced diet and active lifestyle, helping families to get active in fun and accessible ways.
"Research shows children spend just four hours a week outside and are even less active during the school holidays. This would only have been exacerbated by the closure of schools during lockdown, highlighting the need to encourage families to now get out and get active.
"At less than 100 calories a bag, we know our Minis range appeals to parents in search of a permissible and convenient treat for the lunchbox or as an on-the-go snack. Last year the Minis get moving campaign saw over 3.5 million promotional packs sold, resulting in a 43.8% increase in penetration, while enabling children to have fun and be active."
Read more product news