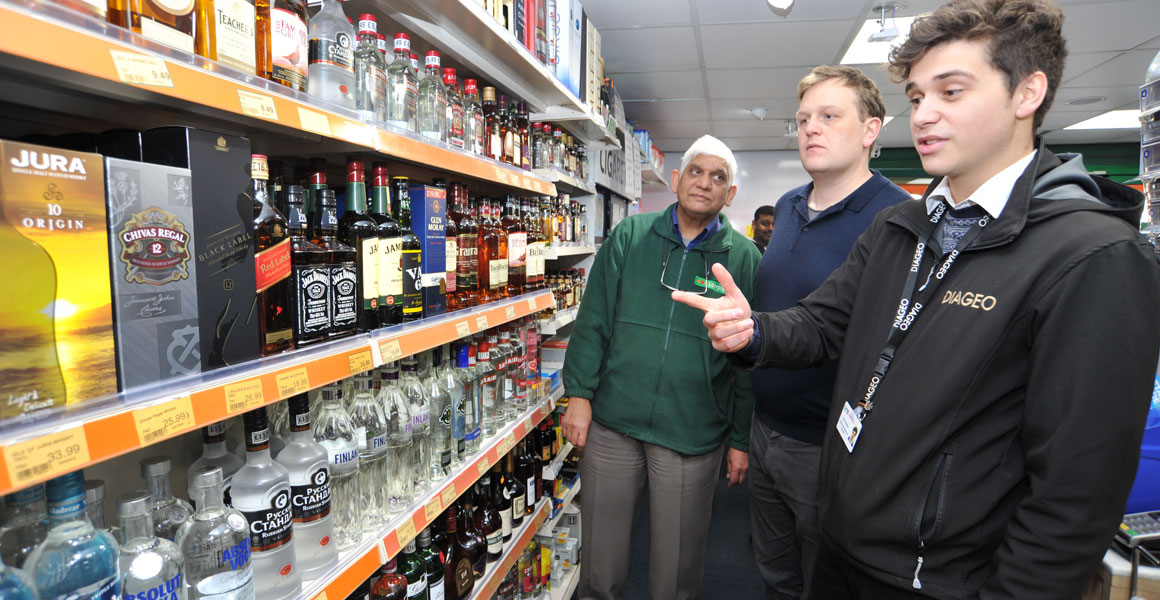 RN rejoins two retailers to see the results of Diageo's changes to their spirits fixtures. Have sales increased over the trial period?
In April, RN and Diageo experts Ben Jackman and Benjamin Inwood visited two London retailers as part of the My Store Matters programme, to help them identify opportunities in the category and improve their spirits sales.
They gave advice on range, merchandising and display, and made changes to the retailer's offerings.
Now the trial period has ended, have our retailers seen their spirits sales rise?
FOCUS ON
Manmohan Ghatora, Barnett's Deli, Stanmore
CHALLENGES
Display: Manmohan's spirits lines weren't arranged by type, so it wasn't obvious to shoppers which lines he carried.
Grab attention: Premium brands are important to sales, but top-selling lines weren't standing out in Manmohan's fixture.
Plan ahead: Some of the bestsellers were missing from Manmohan's display after a busy period, meaning he could miss out on sales.
CHANGES TO DRIVE SALES
Display: Manmohan's fixture was remerchandised to place products like rums and whiskeys together vertically, making it easier to shop.
Grab attention: Premium spirits brands were packaged in eye-catching gift boxes to draw shoppers' attention.
Plan ahead: A bigger range of bestsellers was kept in Manmohan's stockroom in preparation for peak periods, meaning he's never at risk of losing out.
MANMOHAN SAYS
I have noticed real improvements in my spirit sales since Diageo helped make changes for us.
For example, 35cl Captain Morgan has sold about three times as much during the trial period, and I've sold new lines that we've introduced during the visits.
Importantly, the display also looks really good and is easy for shoppers to understand, so we'll definitely be keeping Diageo's changes in place.
| | |
| --- | --- |
| Before | After |
| | |
THE RESULT
£2,831 predicted spirits sales increase for Manmohan, per year, based on data from the six-week trial
KEY LESSONS
1. Make sure spirits of the same type are merchandised together to keep your display clear.
2. Draw attention to premium lines with PoS and attractive gift boxes.
3. Stock up to make sure you're never leaving gaps in your fixture.
FOCUS ON
Kamlesh Patel, Londis Manor Park, London
CHALLENGES
Visibility: Kamlesh's display didn't highlight his expansive range and competitive pricing.
Premium brands: Some bestsellers weren't as visible in the fixture as possible, meaning a potential loss of higher-value sales.
Trends: Up-and-coming spirits, such as gin, were displayed further from Kamlesh's till out of customers eyeline.
CHANGES TO DRIVE SALES
Visibility: Clear on-shelf labeling, PoS and shelf strips were introduced to highlight Kamlesh's range.
Premium brands: Premium brands, like Ciroc, were placed higher up and centrally within the fixture to draw shoppers' attention.
Trends: On-trend gin, such as Gordon's Pink, was repositioned closer to the till in customers' eyeline to help Kamlesh cash in on sales.
KAMLESH SAYS
We have seen real improvement in the spirits category during the trial.
The reason it's working is because our customers have noticed the change and really appreciate seeing something different –it makes them more likely to buy.
I learned a lot from Ben and the changes he made, sales have been steady since Diageo's visit. I think all retailers should take part in similar projects, whether they have a large or small store – it can only benefit them.
| | |
| --- | --- |
| Before | After |
| | |
THE RESULT
£5,404 predicted spirits sales increase for Kamlesh, per year, based on data from the six-week trial
KEY LESSONS
1. Highlight your spirits range and great prices with PoS and clear labelling.
2. Encourage trading up to premium lines by positioning them centrally.
3. Bring trending lines closer to your pay point to boost last-minute buys.
DIAGEO'S TIPS
1. Premium spirits are driving growth, so make sure they are clearly visible to capitalise on impulse buys
2. Fractionals are also growing, so stock bestsellers in 20cl and 35cl bottles
3. Group soft-drink mixers with spirits to appeal to occasions like the big night in
EXPERT ADVICE
Ben Jackman, Business Development Executive, Diageo
"I'm pleased with the results – both retailers have seen sales uplifts and managed to maintain sales after Christmas when they usually drop.
In convenience it's very important to make the in-store experience easier and lay out fixtures so they're easy to follow. We achieved this by remerchandising and improving product displays, even though both shops were very different."