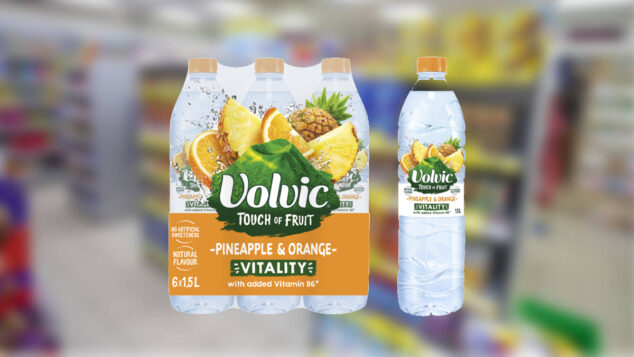 Danone Waters has launched a new Volvic Touch of Fruit flavour, Pineapple & Orange Vitality with added Vitamin B6.
The new flavour is low in sugar, with natural flavours and no artificial sweeteners. It is also vegan and vegetarian-friendly and comes in a recyclable bottle.
Volvic introduces limited-edition Mango & Passionfruit sugar-free flavour
The supplier is launching the flavour nationwide in a 1.5L bottle at an RRP of £1.10, as well as in a pack of six.
According to Danone Waters, added health benefits are helping to drive 9.8% growth in the flavoured water category, which has influenced the inclusion of Vitamin B6 in the new product.
Additionally, orange is the second-biggest flavour in the soft drinks category, while orange and pineapple combinations have grown by 13.4%.
How to perfect your bottled water sales
Marie Chaigneau, brand manager at Danone Waters UK & Ireland, said: "According to Mintel, 36% of people would like more information on how to improve their energy levels, and the new Volvic Touch of Fruit is a great option for them, as its added Vitamin B6 helps to reduce tiredness and fatigue.
"With its delicious blend of pineapple and orange flavours, this will no doubt be a popular addition to the Touch of Fruit range alongside our other iconic flavours."
Read more product news