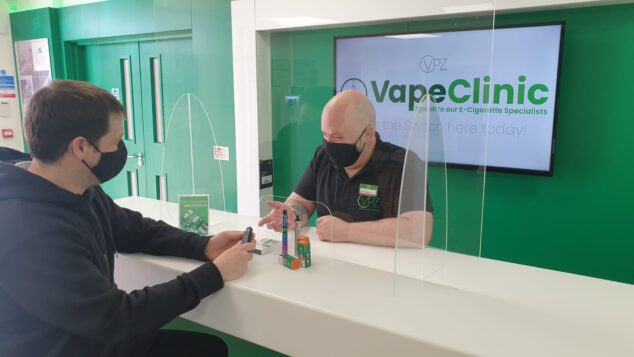 VPZ has launched its Vape Clinic service which offers smokers a free 30 minute one-to-one consultation with its vaping specialists in store.
The pilot clinic, which launched yesterday at its flagship Newbridge store in Edinburgh, has been introduced to meet the demand for stop smoking services, as access to local stop smoking services and vaping retailers massively reduced during lockdown. It plans to open more clinics across its stores in the future.
To encourage more people to switch, VPZ has promised to provide a moneyback guarantee for hardware purchased and any unopened boxes of e-liquids and coils if customers are unable to make the switch to vaping entirely.
Philip Morris to double rep team
The vaping specialist recently opened five new stores since lockdown lifted, and in the weeks since reopening has seen a 165% rise in sales of its 'new to vaping' kits.
Doug Mutter, director at VPZ said: "Smoking statistics are continuing to rise as the pandemic has triggered an increase in smoking rates and the public health problem has been compounded by funding cuts for NHS stop smoking services and local support groups.
"Our new Vape Clinic concept is an investment to fill the void left by the loss of local NHS stop smoking services. We are so confident in the success of our new service that we are offering our customers a money back guarantee if they are unable to make the switch entirely."
Philip Morris Limited sets out 2021 vision with three initiatives
A new report from Royal College of Physicians Tobacco Advisory Group backs vaping as an effective treatment for tobacco dependency and recommends that it should be included and encouraged in all treatment pathways. The report also found that the long-term impact of vaping is 95% less harmful than smoking cigarettes.
Mutter added smokers who try and fail with vaping is usually down to the "wrong initial advice and having the wrong device, e-liquid and nicotine strength" to begin with.
"Each of our specialists are trained and have expert knowledge, they work to the individual needs of the customer and many of our specialists are former smokers who have quit through vaping, so understand the ups and downs of the journey," he said.
Order your copy of Vape Retailer today, the leading vape magazine for the convenience sector. Click here for vape product news and category advice.