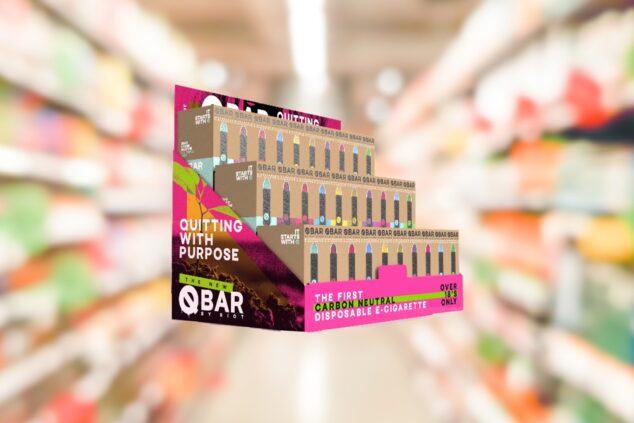 Disposable e-cigarettes have taken the e-cigarette market and vape industry by storm due to their ease of use, convenience and maintenance-free nature. There is no doubt disposable e-cigarettes are the best product to help people quit smoking, but they come at a cost: they are the worst product for the planet.
Millions of disposables sold last year are now in landfill because they are not designed to be recycled. So even when a consumer throws away a used disposable in a recycling bin of any kind it still ends up in landfill. Therefore, because disposables are the most effective device to quit smoking, Riot Labs Ltd has spent the last 12 months engineering a solution to the issue.
Introducing the new QBAR by Riot
Introducing the world's first sustainable disposable, fully recyclable, carbon-negative, bio-plastic e-cigarette: QBAR by Riot. It is made from PLA, a bioplastic made from corn starch so no fossil fuels are used in the making of it. It's 75% less carbon-intensive than traditional plastics.
All parts of the device are engineered to be recycled, including the battery, casing and mouthpiece. As part of the new Riot Recycle Scheme, Riot Eliquid has come up with a recycling program where devices are deposited in recycling locations. Riot Recycle electric vehicles will collect and then recycle all elements of the device.
This new sustainable disposable is nothing like anything that's been seen before, a game-changer within the vaping industry.
QBAR product features and benefits
QBAR is unique to the industry because it's the first carbon-negative and fully recyclable disposable, but it also has many other benefits, including:
550 puffs
Made from PLA plastic (cornstarch)
420 MAH A* battery
UK-made flavours
Sweetened by stevia
Fully recyclable
Fuelled by award-winning Riot Eliquid and part of Riot initiative
QBAR consists of 10 unique flavours all of which are existing Riot UK-made award-winning best sellers. These are:
Triple Mint
Sweet Strawberry
Cherry Fizz
Blue Burst
Mango Peach & Pineapple
Grape Ice
Classic Tobacco
Strawberry & Blueberry Ice
Menthol Ice
Watermelon Ice
There are three options of nicotine strength available (2%, 1% and 0%) so consumers can choose the right nicotine strength to best suits their needs, with the option to reduce their nicotine intake completely with a 0mg.
To accommodate consumers that might find the vaping category complex, Riot Eliquid has made the device very simple to use, with no setup, as well as making it a lot easier for retailers as there is no explanation needed when consumers are purchasing.
The Riot Recycle Scheme
The Riot Recycle Scheme is the first disposable vape recycling scheme in the UK. The scheme brings together Riot Eliquid with major retailers, waste management companies and recyclers with the shared aim of growing the infrastructure needed to increase the number of disposable e-cigarettes recycled in the UK.
Riot Labs Ltd sustainability promise
This new sustainable disposable is a crucial milestone to tackling smoking cessation, as well as reducing the vaping industry's carbon footprint. For every gram of carbon used in production, Riot Labs Ltd will offset double the amount of carbon through tree planting and direct carbon capture. To help the community, Riot Labs Ltd will be donating a percentage of our profit to charities within the UK and abroad.
QBAR PoS and marketing opportunities
To display the QBAR disposables, Riot Eliquid are offering retailers various PoS that focuses on recycling, education, flavour and product. The available PoS includes:
CDUs
Posters
Window stickers
Riot Rip up the Rule Book
Shelf huggers
Strut cards
Riot Recycle bins
Shelf wobblers
Counter mat
Flavour cards
This is an opportunity for retailers to have a very attractive Profit on Return (PoR) located anywhere in the UK. Bespoke marketing designs and support are also available on request. Please contact Riot Eliquid directly for more information about QBAR and retailing opportunities.
Click here for more information on Riot Eliquids