What are nic-salts?
The ability to get a nicotine hit without having to smoke a cigarette was actually first explored in 1927, but it wasn't until 2003 that a Chinese inventor created the first e-cigarette, and modern vaping was born.
Fast forward to 2020, and vaping is a continually expanding category, with new flavours, devices and brands all fighting to get a space on the shelf.
But not every vape is able to offer the same hit that smoking does, and for many regular tobacco smokers, puffing all day on flavoured vapour just isn't enough – this is where nic salts come in.
Logic Epiq range gets nic-salt makeover
After hitting the market in 2018, nic salts have become a favourite in the vaping industry, thanks to their ability to offer a much more comparable nicotine hit to traditional tobacco.
"Nic salts have a smoother vape and provide the consumer with a higher concentration of nicotine," says Ebrahim Kathrada, director at Aquavape. "This negates the need to take as many puffs on the vaping device, as the nicotine craving is satisfied a lot quicker."
Nic salts: three ways to sell them
Invest in displays and utilise the technology available
At Avtar Sidhu's Budgens in Kenilworth, Warwickshire, nic salts are a huge part of his offer, and in store, he has two trained vaping staff and an interactive screen. This way, he well-equipped to show customers the benefits of using nic salts, and even offers trial kits.
"It's one of the key parts of vaping that we've been pushing really hard. We've found that a lot of people tried vaping when it was first available but weren't convinced – they actually found themselves vaping much more frequently than they were smoking, trying to fulfil the same tobacco hit," he says.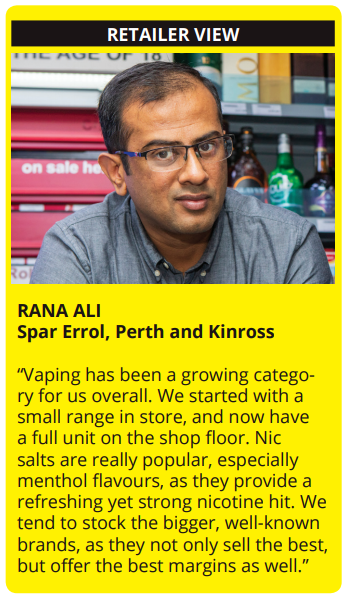 Keep up to date with the latest launches
While there are many different kits, pods and liquids on the market, designed to help bridge the gap between smoking and vaping, one brand, Myblu, recently launched a Myblu Intense Start Kit. Alongside a pod-mod vape device, the kit also includes two intense Liquid­pods in Menthol and Golden Tobacco varieties, which the brand says are ideal for those switch­ing to vaping for the first time.
Also noticing the growing popularity for nic salts is JTI, which introduced its first range of nic salt flavour pods last month.


Know your hardware
Duncan Cunningham, UK corporate affairs di­rector at Imperial Tobacco and Blu, says: "The retailers who can offer knowledgeable advice to these shoppers will be the ones that see the most success and truly establish themselves as a destination store for vapers.
"Retailers can do simple things to drive sales, such as ensuring they display and promote vaping products in and around their stores, and creating attractive, well-organised displays to draw the eye of the customer to certain products as soon as they enter the premises."
To read more about pod mod systems and how to increase your sales in the category, buy your copy of May's issue of Vape Retailer
Vaping glossary: A to Z of vaping terminology
Order your copy of Vape Retailer today, the leading vape magazine for the convenience sector. Click here for vape product news and category advice.