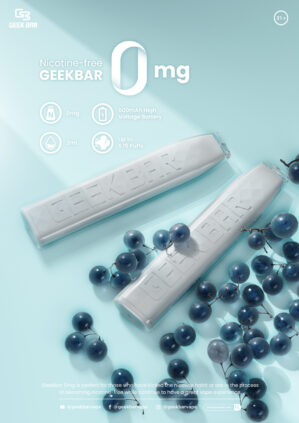 Geek Bar has launched a new zero nicotine disposable vape, designed for smokers wanting to give up and for those already vaping who want to reduce their nicotine intake.
The pen, which is available to convenience retailers to stock, will give off 575 puffs and use the same battery technology already used by Geek Bar.
It comes in Pink Lemonade, Sweet Strawberry, Mango Ice, Passion Fruit, Banana Ice, Sour Apple, Watermelon Ice, Blueberry Ice, Strawberry Ice Cream and Grape varieties.
Geek Bar cracks down on illegal vape sales
The supplier said according to the NHS, while almost all of the harm from smoking comes from the other chemicals in tobacco smoke as opposed to just nicotine, the "main reason that people smoke is because they are addicted to nicotine".
Allen Yang, chief executive at Geek Bar, said: "Due to the popularity of Geek Bar in the UK, we're delighted to add this new zero nicotine range to our product offering.
"Nicotine vapes of varying strengths are hugely important in ex-smokers' quitting journey, and for those smokers coming towards the end of their smoking cessation journey, the zero nicotine vape is an important milestone."
Retailers are also being encouraged by the supplier to report suspected counterfeit and non-compliant products at legal@geekbar.com.