Geek Bar has set its sights on shutting down social media accounts that give the impression they are official Geek Bar channels, and those that are selling or promoting non-compliant products.
To help notify people about the illicit social media platforms, Geek Bar has produced a banner that will be placed on its social media accounts to warn social media users of fake accounts and alerting consumers to report them.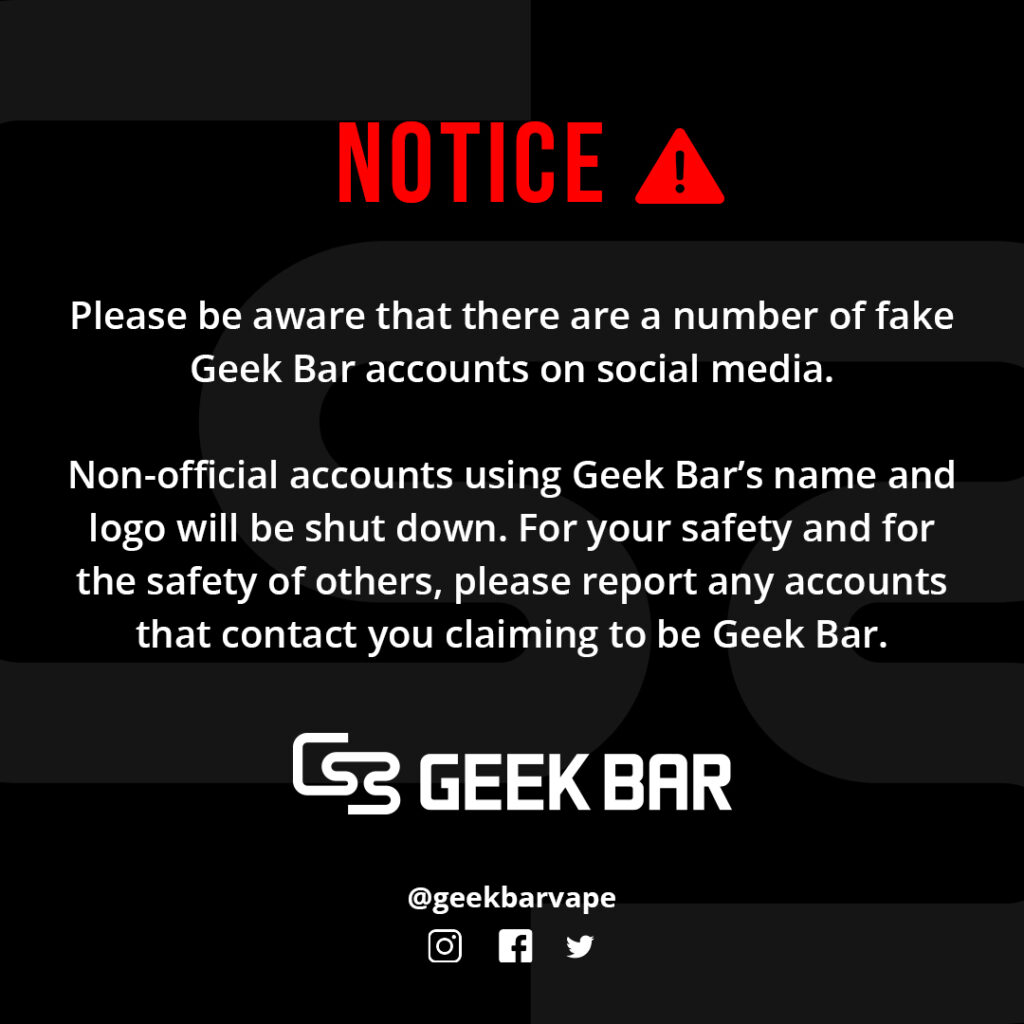 This latest move follows the company's involvement in recently closing 12 counterfeit factories in China which had manufactured more than 100,000 counterfeit Geek Bars destined for the UK.
The company has so far identified around 100 so called official Geek Bar social media accounts as well as 21 other accounts on Instagram and Twitter which are trading in non-compliant vape products including Geek Bar Pro, which has a higher nicotine content legal in some countries, but not in the UK.
Allen Yang, chief executive at Geek Bar, said:: "We will not rest until we have addressed the illegal supply of non-compliant and counterfeit products into the UK as it completely undermines our hard earnt reputation as a manufacturer that produces high quality and country-compliant products.
"We will be getting in touch with all those responsible for the unofficial Geek Bar accounts to ask them to change their names, so consumers are not fooled into thinking that they are buying products or receiving advice and information from an official Geek Bar source.
Industry bodies respond to Scottish government plans to ban vape ads
"We will also be making Trading Standards aware of those operating accounts, which either use the Geek Bar name or another handle and are selling or promoting our products that are not on sale in the UK due to different regulations compared to the US and non-EU markets. We have also written to the social media platforms involved to highlight the issue."
In addition to this current development and helping close counterfeit factories, the company has produced an official distributors list which is available via its website for retailers to check they are purchasing their products from a reputable source as well as a guide which shows a real Geek bar against a fake product.
Retailers can also check the authenticity of Geek Bar products by verifying the security code at geekbar.com/security-code.html and report suspected counterfeit and non-compliant products at legal@geekbar.com, The company is incentivising retailers to report counterfeits or products that do not comply with UK regulations.
Vape vending machine trial goes live in stores
UK regulations mean disposable vape products sold in the country should contain no more than 20mg/ml of nicotine nor have above 2ml liquid capacity.  Furthermore, it is a legal requirement that product packaging includes warnings about the nicotine content.
Order your copy of Vape Retailer today, the leading vape magazine for the convenience sector. Click here for vape product news and category advice.