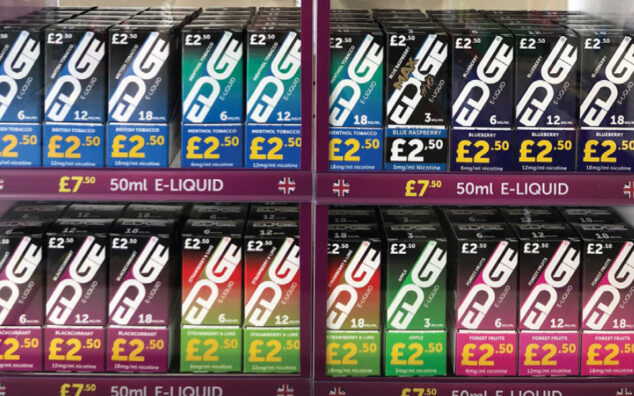 Vape brand Edge is to cut the in-store support it provides to independent stores as parent company NextGen360 struggles with the fallout from serious accounting failures.
Sources at the company told betterRetailing that its more-than-30 field-team members were put under consultation at the beginning of November, with severe job losses expected in early 2022.
Though the consultations are still underway, the sources said the company is aiming to scale back its in-store team to just five business development managers covering the whole of the UK, including managing, merchandising and supporting recently won listings in Asda and Co-op stores.
The Vape Network trials disposable vape pen return scheme
One staff member said: "E-liquids are a hugely crowded market, there's no way five people are going to be able to retain the space and sales the team have built in independent stores."
Several store owners reported a reduction in visit frequency and said their last rep visit had been to instruct them to place orders through the brand's online site, rather than through their rep.
Around 20,000 mostly independent stores currently stock Edge lines.
The brand is thought to have built up around 60% share of the 10mg budget e-liquid market through in-store visits, free point-of-sale material and by being one of the few vaping brands listed by all major wholesalers.
Eleaf IORE Lite is the perfect next-step device
In spring 2021, Edge e-liquids accounted for nine of the top 10 bestselling e-liquid lines in independent convenience stores, according to till data from EPoS company ShopMate.
However, staff at the company told betterRetailing they had "missed the boat" on the disposable vape trend, and that Edge was losing out from customers switching away from self-fill devices.
Shopmate data showed vaping device sales increased by more than 1,200% from January to October, leaving Edge with a 1.43% share of vaping device sales in independent convenience stores.
Asked how the expected lay-offs would affect instore support from the company to local shops, a spokesperson for Edge said: "We are not able to comment at this time."
E-liquids price comparison – Pricewatch
One staff member at Edge claimed the lay-offs were due to "issues with the company's profit & loss accounts". Parent company NextGen360 Ltd was nearly struck off the companies register in June 2021 due to issues related to serious accounting errors at the company.
Auditor PricewaterhouseCoopers refused to give an opinion on the accuracy of the company's 2019 accounts, only published in July 2021, and refused to say whether the company's 'going concern' status was appropriate.
NextGen360's directors said "serious control environment failings" had resulted in the "loss of reliable reported financial information" for 2019. The directors said this meant they could not confirm the status of the company's finances, forcing parent company and German pharmaceutical giant Stada Arzneimittel to step in and guarantee to advance any funds required for the next 12 months.
Order your copy of Vape Retailer today, the leading vape magazine for the convenience sector. Click here for vape product news and category advice.