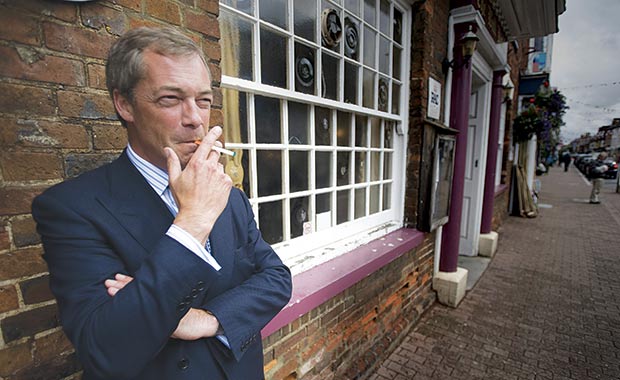 Nigel Farage has accused the EU of having "no understanding of people or business" over proposals which could limit retailers' ability to sell electronic cigarettes.
The UKIP leader launched the blistering attack after health lobbyists backed up European Commission suggestions to reclassify e-cigs as medicines, instantly halting much of the rapidly-growing £70million UK industry, which has trebled in size over the last three years.
Chain smoker Mr Farage told bR: "The amount of money spent trying to stop people smoking is massive and yet when the market provides an alternative to tobacco the EU tries to legislate against it. They have no real understanding of business or real people, only an overwhelming urge to interfere regardless of the consequences."
 'Fantastic' e-cig sales opportunity for retailers could be swamped by EU legislation
Earlier, groups such as the Finnish Medicines Agency and the Research Centre for Prevention and Health in Copenhagen, urged MEPs at the workshop to reclassify e-cigs under the EU's Tobacco Products Directive.
If agreed before the European elections in May 2014 this would impose huge compliance costs on the existing e-cig suppliers.
The UK e-cig industry is still a minnow compared to traditional tobacco, but with heavy legislation such as the display ban due to be enforced in small shops in 2015, major cigarette manufacturers are investing in alternative nicotine products.
Lucky Strike maker British American Tobacco has acquired e-cig maker CN Creative, while Lambert & Butler maker Imperial Tobacco has set up Fontem Ventures to look into e-cigs, and the NFRN has a deal with Nicolites.
Claims against e-cigs at EU workshop 'vacuous' and 'made up'
Chris Davies, Lib Dem MEP for North West England, told bR e-cigs should be on display next to conventional cigarettes.
He said: "Some people say they are a recreational drug. But they happen to be one that will save lives."
Clive Bates, the former director of Action on Smoking and Health, warned that reclassifying e-cigs as medicines could lead to a black market with people brewing their own e-liquids.
He said: "If retailers see the opportunity for a new fast growing and profitable market, they could pick up a bit of expertise on e-cigarettes and start to nudge their customer to give them a try. If that happens, they could become as influential as doctors in one of the greatest public health opportunities this century."
Lib Dem MEP Rebecca Taylor, who sits on the EU's Environment, Public Health and Food Safety Committee (ENVI),  said: "I believe that e-cigs do need to be regulated to protect consumers – from poorly performing devices, for example, but this must not lead to them being less widely available than tobacco."
The ENVI Committee is due to report to European Parliament on July 10 with recommendations on how e-cigarettes should be classified.
E-cig makers warn against dangers of over-regulation
Charles Hamshaw-Thomas, director of legal and corporate affairs at E-Lites, said he was remaining optimistic that the EU would legislate sensibly.
He said: "E-cigs are a tremendously exciting product. They're widely recognised as being safer than cigarettes, they displaced the sale of over 2.5billion cigarettes in the EU last year and it would be ludicrous if EU legislation made it harder to sell them than cigarettes."
Tony Scanlan, CEO at Gamucci, said the proposed legislation could have a "significant impact" on the market, at a time when e-cigs have reached just one per cent of their total market potential.
"A significant slice of that income goes direct to retailers and if this legislation comes into effect, it would have a direct impact on business margins," he said.