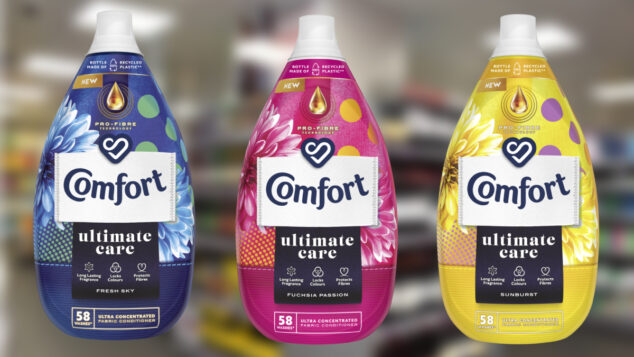 Unilever is relaunching its Comfort range of fabric conditioners with a focus on new pack design and product technology.
According to the supplier, the relaunch follows customer research showing the need to highlight the role that conditioners play in protecting clothes.
Comfort, Domestos and Surf gets a festive makeover
Available now, the products now come with Comfort's new Pro-Fibre Technology, designed to protect clothes from fading and shape-loss.
Additionally, the bottles are made from 100% post-consumer recycled plastic, and are 100% recyclable.
Unilever is supporting the relaunch with a £5.8m investment campaign, beginning this month.
DCS Group unveils eight opportunities in household, health & beauty
Nadine Slyper, homecare brand experience director, Unilever UK & Ireland, said: "Our research reveals there is a clear gap in shopper knowledge when it comes to the benefits rinse conditioners offer. Our new Comfort Ultimate Care range not only delivers fragrance and softness but also has many more benefits and protects clothes from damage to help keep them looking their best for longer.
"Through this relaunch and high impact communications, we want to get clothes lovers back into rinse conditioners, choosing Comfort as the brand to care for their most loved items."
Read more product news