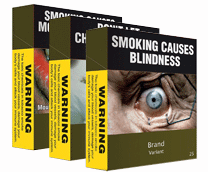 While the UK Department of Health works through more than 500,000 responses to the Consultation on the Standardisation of Tobacco Packaging, the Australian Government has moved on to implementing their legislation.
From 1st October, Australian tobacco retailers will have started to receive plain packs which will now be on offer to Auzzie smokers; from 1st December it will be illegal for retailers to display or sell branded packs. As in the UK when health warnings and graphic images on packaging were made law, tobacco companies will be able to exchange unsold stock for the plain pack variety.
It is quite clear that the production of counterfeit packaging will be much easier with only the brand name differentiating packs, so it will be interesting to see if the illicit market for tobacco grows in Australia.
Many Governments – including the UK's – will be watching.