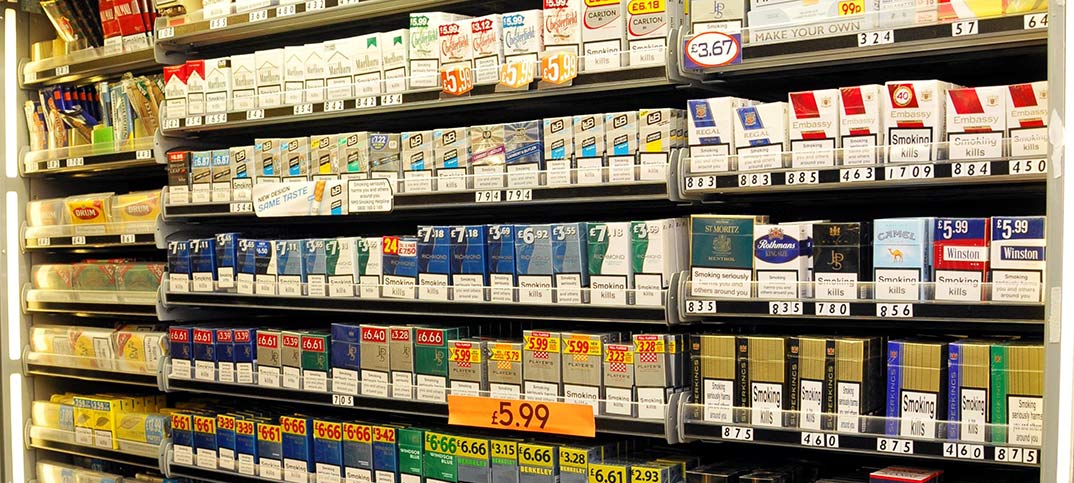 Tobacco might be facing some of the toughest legislatory challenges that the market has ever seen, but JTI's head of corporate affairs is bullish about the future of one of convenience's most important categories. Ed Chadwick reports
The biggest wave of regulation the tobacco industry has ever seen is about to come crashing down on one of retail's core categories.
Having joined JTI in 1974, the company's head of corporate affairs, Paul Williams, has seen this tide of legislation slowly creeping up over five decades.
So his experience means that he is among those best placed to speculate on the possible effects of the display ban, European legislation and the looming threat of plain packaging.
And retailers who rely on tobacco to drive footfall and revenue will be reassured by Mr Williams' optimism that it will continue to play a significant part in the future of news and convenience stores.
"In five years' time tobacco will still be a significant share of all categories sold through your readers' stores," he says in his first interview with the trade press.
"At the moment, tobacco accounts for nine out of the top 10 products in value. In my view, it will continue in that vein. 
"From a cash generating perspective, the category will be resilient."
As the population heads towards 70 million over the next five years, the percentage of smokers might fall numerically, he says. But, with an estimated 10 million smokers, currently, will there be any less in five years' time? 
"Not while the adult population continues to grow. The category will still be resilient," he says.
For JTI, the outlook is particularly rosy. It continues to close the small gap in market share between itself and Imperial Tobacco. And its acquisition of e-cigarettes manufacturer E-Lites confirms Mr Williams' assessment that the company will become a "world leader in emerging products".
That's not to say that he agrees with increasingly draconian laws. JTI will continue, he says, to lobby the government to look at alternatives to plain packaging by demonstrating how enforcement of existing laws will help.
And Mr Williams says the impact of the European Tobacco Products Directive (TPD) – which will ban packs of fewer than 20 cigarettes and RYO pouches under 30g – should not be underestimated.
He steadfastly believes that it will drive the market into the hands of counterfeiters and those selling non-UK duty paid products – leaving the public exposed to cheap tobacco containing harmful ingredients and gifting market share to shadowy traders who are much more likely to sell to under-18s.
The first challenge on the horizon is the implementation of the display ban in stores under 3,000sq ft on 6 April next year.
The good news for retailers, says Mr Williams, is that larger stores managed the transition without losing custom.
He says that independents' ability to adapt – "that's what their existence is built upon" – will mean that they are unlikely to lose much business as long as they don't give customers an opportunity to go elsewhere.
Availability and visibility will be key to retaining sales, he says. "One thing we have always said is that independents need to communicate to their loyal customers that regardless of what is behind these doors, your products will always be available.
"So it doesn't matter if a customer is the only person who smokes whatever obscure brand. By monitoring availability, there will be no reason for them to go elsewhere. 
"The whole issue about availability and range is going to be absolutely critical."
Asked whether he can understand retailers who tell RN they are thinking of replacing the tobacco gantry with higher margin products, he warns that they risk losing out to competitors.
"The gantry has got a very small footprint of one square metre, but it can be turning over £3,000, £4,000, £5,000 or even £10,000 a week," he says.
"You've got two cash machines as a retailer. One is the lottery and the other is tobacco. Where do you go to replace it?
"All of a sudden, you're going to take the biggest cash generator in the entire shop off its normal position and remove it from sight.
"The high street is full of competitors who will have visibility and availability."
The dark market might even provide a boost to margins, he suggests, offering retailers incentives to promote new products.
"You've seen that coming through with Benson & Hedges Blue. It's a new brand and there's an incentive to stock it and get someone to switch from something else. That's business. 
"Canada has shown us that you can still launch a brand because you have a retail voice," he says. 
"But those brands do tend to have a proposition, either because they are the cheapest or because they are a different product like a slim or a capsule cigarette."
To make life easier and keep queuing times down, JTI is urging retailers to lock in ranges and start training staff now.
Legislation drafted in Brussels will form the next – and possibly biggest ever – challenge for the category.
The European TPD will come into force from April 2017. Most drastically, it will wipe out smaller packets of cigarettes and RYO and, later, menthol products – about 40% of current lines.
This is where JTI is most concerned – and most perplexed – by the intentions of Brussels bureaucrats.
"It seems somewhat counter-productive when health groups are seeking to reduce consumption," says Mr Williams.
He says the price of a 19-pack will increase by as much as 40p overnight thanks to it containing an extra cigarette. The post-budget timing could mean that rises by a further 40p.
Ten-pack buyers, meanwhile, will be forced to spend another £4 or so.
At the same time, contraband is available in the street for roughly £4 a pack.
Mr Williams says: "My view is that if you are in a demographic which is struggling financially, the pressures which might make you think about moving into that non-UK duty paid market will be immense."
Bearing in mind the experience from Australia where, after 16 months of official figures, there has been no decrease in sales of tobacco – and an increase in the illicit trade – Mr Williams seems less concerned about the impact of plain packaging.
There is no sign of the government's promised consultation and JTI remains hopeful its mind can be changed by offering alternatives to more legislation.
The manufacturer hopes to do that by limiting youth access to tobacco, not only by tackling the black market through a combination of intelligence sharing with enforcement agencies and an awareness campaign through the regional press, but also by testing to see how retailers are performing duties on age-restricted sales.
Mr Williams says he expects JTI to roll out its pioneering test purchasing pilot, which ran in the north-west of England for six months until April this year.
Thousands of retailers were visited and sent a letter if they failed to ask a mystery shopper for ID as per the Challenge 25 protocol.
Figures are not yet available, but Mr Williams said that there was an "upward curve" showing improved compliance on the second visit.
"We've now got a benchmark and want to see if we can improve it," he says.
"We have always said there are alternatives to plain packing, and stopping children getting access to tobacco is critically one of the most important.
"The rest of the industry has been watching this pilot and is committed to coming in based on the success of it. Once we analyse that, the aim is to roll it out nationally."
Mr Williams says that, crucially, JTI will be able to demonstrate the impact of its initiatives – something he believes the government has failed to do with its health agenda.
"The government is going to keep coming forward with excessive legislation," he says.
"The next category under the spotlight will be alcohol. Hot on its heels will be sugar. All this is about external pressures from the health lobby."