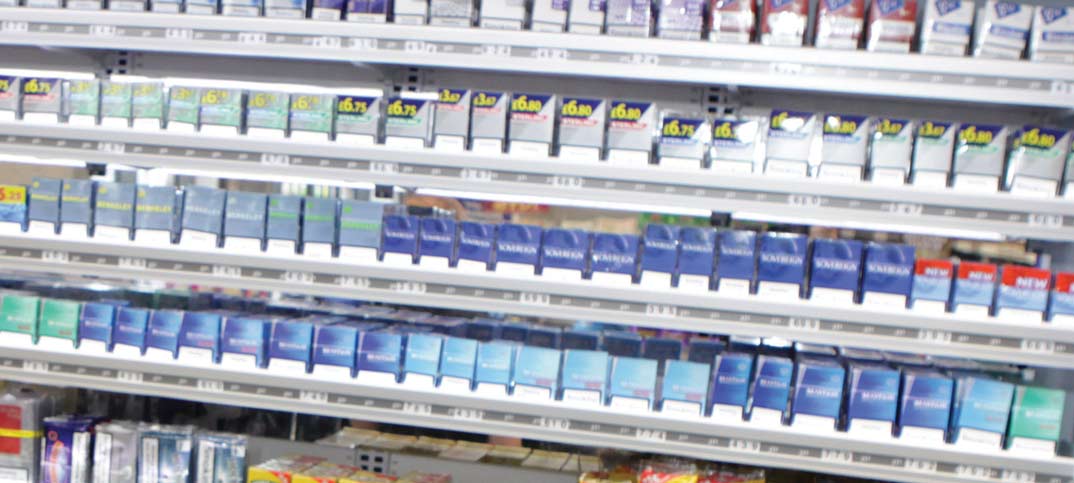 Retailers who have parted ways with major manufacturers expect to shell out a collective £13.8m to make themselves compliant with the display ban next year, according to an RN survey.
The sum is an estimate based on the 12,000 retailers who are entering the dark market alone because they have had existing gantries signed over to them or want the freedom to decide on range and display.
While some will opt for low or zero-cost options including moving tobacco to the stock room or under the counter, others told us they were planning to invest in the category before April.
But more than one in five retailers surveyed (22.6%) said they had yet to make a decision on how they would convert their gantries.
Our study found that 16.6% of retailers will opt for the most expensive initial outlay – overhead gantries costing about £1,600 which are being provided by companies like Expotutto.
The most popular choice is sliding doors, with 39.5% saying they had decided to opt for the solution and can expect to pay upwards of £400 for doors to be fitted.
And 10% of retailers said they expected to opt for a vending solution. Charges of up to £25 per week would mean retailers will shell out as much as £6,500 over five years.
Trade bodies including the NFRN have urged retailers not to leave it late before making arrangements.
NFRN commercial director Graeme Collins said: "Small shopkeepers cannot afford to keep their heads in the sand.
"The countdown to the display ban is well underway and it's time for retailers to act, as failing to comply will lead to prosecution and some severe penalties."
Expotutto director Luigi Spina added: "At the moment, we can manage orders very quickly, but our waiting list is continuing to grow."
Survey findings
There are some 12,000 independent retailers in the UK who won't be working with major manufacturers to make their gantries compliant with the display ban from 6 April.
For some that's down to choice. Many chose to reject the offer of sliding doors either to maintain full choice over their range and display.
Others felt that they didn't want to cover premium space behind the gantry and will instead use it to promote products which deliver a bigger margin.
Plenty were thinking further down the line and said they didn't believe a covered gantry would work if plain packaging was introduced. They are certainly not alone in anticipating problems with selecting a product from near identical packets alongside it.
Here are some of the more enlightening responses to our survey:
"Covered gantries look awful and intrusive."
"I prefer the idea of an overhead gantry."
"It's not suitable for my business and future tobacco legislation."
"I will cover 25% of the gantry, enabling me to use the rest of the space for more productive use."
Others simply weren't offered a gantry. Manufacturers say this was partly down to willingness to engage with the category and demonstrate a commitment to grow sales, but concede that sales volumes were an inevitable factor.
Either way, some of those who were left out feel understandably unloved.
Whether by choice or necessity, almost a third of the country's 40,000 indies will be installing their own solutions between now and 6 April.
Here's what they told us:
One in 8, or 12.9%, say they intend to fit an overhead gantry
9.6% will keep tobacco in drawers behind the counter
Sliding doors are the option for 30.6% of retailers
14.5% will go for the cheapest option which allows them to cover tobacco in its current siting: curtains or blinds
8% will opt for a vending solution
1.6% expect to relegate tobacco to the stockroom
And 22.6% told us they were yet to decide on a solution.
In estimating our costings, we made the assumption that the remaining 22.6% were eventually likely to reach the above decisions in the same proportion as the rest of the trade.
They haven't got long to decide but there is plenty of advice and no shortage of suppliers.
We asked a final question in our survey: "What extra support do you need from tobacco manufacturers?"
Here's a list of the most interesting answers:
"Advice and help with price lists."
"The small shops seem to get overlooked. They should offer us a new gantry."
"Not to overload us with new brands in a dark market."
"Advice on what options we have and help towards it, but not necessarily pay for the solution."
"To have them take back slow selling lines."
"Manufacturers should subsidise gantry solutions."
"Any support from some of the major tobacco manufacturers would be good as they are all quick enough to ask you to stock all their new lines."
"Reduction in the amount of new launches."
"It's now my gantry and I will stock what I want. The manufacturers have short themselves in the face."
"To keep us up to date on products, offer more rewards and free samples to customers. On the whole I am happy."
"As we are selling their products, I think the minimum they should do is provide all gantries to the minimum requirements under the legislation to ensure we remain legal in selling their products."