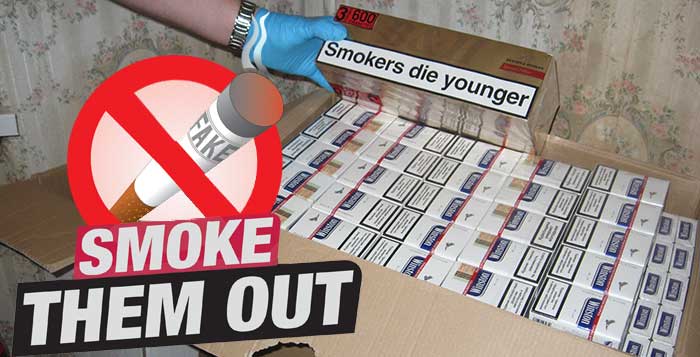 Nearly three-quarters of smokers buy tobacco from sources other than shops, with London, the south-east and the north-west of England the UK's worst affected areas for non-duty-paid tobacco.
According to a survey of 12,000 smokers around the country, 71% of people who smoke buy cigarettes or rolling tobacco from places other than shops, either legally such as their holiday abroad or the internet, or illegally through car boot sales, vans or people on the street.
The highest proportion of sales of untaxed tobacco are in London (15%), the South East (15%) and the North West (11%), accounting for around 41% of an estimated £2.1bn loss in tax revenue to the Government.
The average national price for a pack of 20 illicit cigarettes is £4.11, with the lowest average price at £3.79 in Yorkshire & Humberside

The average national price for an illicit pouch of roll your own 50g is £6.88.  The West Midlands has the lowest average price at £6.55

19% of Scottish smokers spend £20 or more per week on non-duty-paid tobacco
Giles Roca, director general at the TMA, which conducted the survey, said the Government's high taxation policy on tobacco in the UK has shifted consumer behaviour to buying from non UK duty paid and illegal sources. "This has cost the Treasury billions of pounds in lost tax while giving a boost to the criminals who are behind the illegal trade," he said.
These figures will strike fear into the heart of every convenience store owner
"With new EU legislation set to ban small packs by May 2017, the fact that 80% of the illegal cigarettes cost less than £5 will be a concern for retailers."
Blackburn retailer and national spokesperson for the Tobacco Retailers' Alliance Suleman Khonat said: "This report gives further evidence of something that retailers see every day; that there is a huge black market in tobacco in this country.
"Responsible retailers like me play a key role in our local communities and we want to continue providing the valuable services we do for our customers. We need the Government to support us by tackling the serious issue of tobacco smuggling rather than imposing any further taxes or restrictions on our businesses."
Hitesh Pandya, owner of Toni's News in Ramsgate, Kent, added: "These figures will strike fear into the heart of every convenience store owner. What many people don't realise that we rely on tobacco sales – 50% of my shop revenue comes from tobacco. The Government's tax policy is encouraging smokers to fill their suitcases with cigarettes when abroad.
"The Government's approach to tobacco tax has to change; It is unfair to customers and businesses alike."
Do you know of anyone selling illicit tobacco? Call us anonymously on 020 7689 3379.