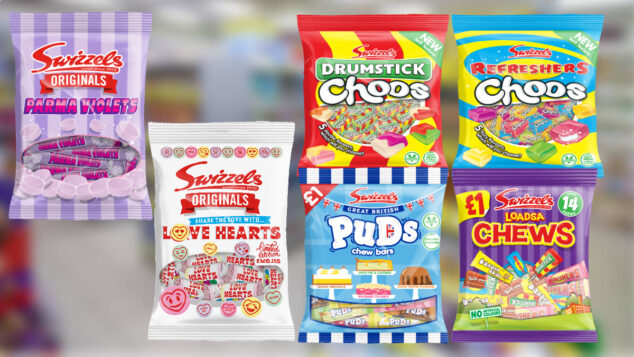 Swizzels is launching a social media campaign highlighting its range of vegan products throughout Veganuary and beyond.
The campaign comes as the number of people choosing vegan lifestyles is growing exponentially, according to research from Ipsos Mori on behalf of the Vegan Society.
The market research found that the number of vegans in Great Britain has quadrupled between 2014 and 2019, with a quarter of the British population set to be either vegetarian or vegan by 2025.
Among Swizzels's vegan range are the Loadsa Chews £1 pice-marked pack (PMP), featuring a variety of chews including Banana Skins, Drumsticks and Refreshers.
Swizzels launches Love Hearts Candy Sticks
Other vegan products include Choos, which come in Drumstick and Refreshers varieties. Each £1 PMP features individually wrapped soft chews with five different flavour combinations across both varieties. Drumstick Choos include Peaches & Cream and Strawberry & Banana flavors, whilst Refreshers Choos feature flavours such as Pineapple and Apple with a fizzy sherbet centre.
Additionally, Swizzel's range of 10p chew bars, which includes Drumstick Original, Drumstick Bubblegum and Refreshers Original, Refreshers Sour Apple and Refreshers Strawberry.
Another vegan offering from Swizzels is Great British Puds. This £1 PMP includes four individually wrapped chew bars in British dessert flavours: Sticky Toffee Pudding, Rhubarb Crumble, Apple Pie & Custard and Lemon Meringue.
Swizzels Drumstick Rhubarb and Custard flavour launched
Finally, Swizzels' Originals range, featuring packs of Love Heart rolls and Parma Violet rolls are also vegan-friendly.
Mark Walker, sales director at Swizzels, said: "As more and more people are becoming conscious of their eating habits and switching to a vegan lifestyle, it can be difficult to identify what type of confectionery is acceptable to consume.
"As such, it's important for retailers to ensure they are stocking a variety of sweets which vegetarian and vegan customers can choose from. Convenience stores should create a section within their shops which is labelled clearly as vegan, to make it easier for consumers to see what their vegan offering is."
Read more product news