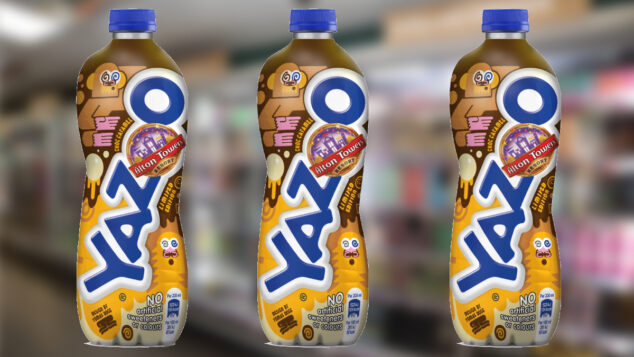 Yazoo is relaunching its limited-edition Choc Caramel variety due to popular demand.
Choc Caramel, which first launched in 2019, will replace Yazoo's previous limited-edition launch, Jaffalicious Choc Orange. Supplier FrieslandCampina says Choc Orange was a success, delivering more than £1.23m in incremental sales to the flavoured milk category.
The relaunched variety will be available to convenience and wholesale from early February in standard and price-marked 400ml packswith an RRP of £1.15, with wider grocery availability following in late March alongside a 1l format.
The 400ml packs will also be available as part of Yazoo's new two for £2 price-marked offer.
Yazoo adds '2 for £2' PMP offer and new £1.79 1l PMP
As part of the relaunch, Yazoo launched a social media campaign to find an up-and-coming artist. The winner, Tomas Dogg, created the artwork for Choc Caramel with input from Yazoo fans. The bottles are also 100% recyclable.
Maren Fuhrich, brand manager at Yazoo, said: "We're into our fifth year of limited-edition launches, and we're excited to bring back Choc Caramel by popular demand! Our consumer-led competition has been a great way to reinject some fun, positivity, and engagement amongst our audience, especially after a challenging time for many.
"Choc Caramel was a huge hit with Yazoo fans when we first launched in 2019 and added £1.67m in sales value to the category between 2019 – 2020. As the market leader, we know that when we introduce innovation, we support the whole category, and we're sure that Choc Caramel will be another hit with shoppers."
Read more product news