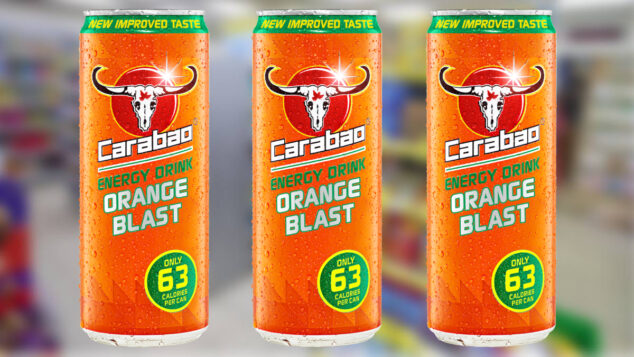 Energy drink brand Carabao has announced it is relaunching its Mandarin Orange variety as Orange Blast.
The refreshed variety is set to launch this month in standard and 69p price-marked pack (PMP) varieties.
Carabao has made the change following research conducted by YouGov which found that energy drink drinkers were 50% more likely to buy a product called Orange Blast compared to Mandarin Orange.
Carabao launches Mixed Berry in a 69p PMP
The relaunch comes as Carabao has grown unit sales by 64% and value sales by 61% in the most recent quarter, which the supplier says makes it the fastest-growing top 20 energy brand in the UK, excluding new launches.
David Butcher, managing director of Carabao UK&I, said: "When Mandarin Orange launched in 2018 it quickly became one of Carabao's firm favourites among consumers. Now, we're excited to replace it with even tastier orange drink that we know energy drink consumers will love.
Red Bull makes Cactus Fruit Edition a permanent line
"It's been an exciting year for the brand as Carabao has continued to go from strength to strength in 2021, becoming one of the UK's fastest growing energy drinks. Not only that but we've enhanced our commitment to football sponsorship by extending partnerships all over the UK. Now, with our new and improved Orange Blast flavour, we cannot wait to keep building our brand in 2022."
Carabao will support the launch of Orange Blast with a Facebook ad campaign and activations targeting football fans linked to its sponsorship of the Carabao Cup as well as Hibernian and Hearts football clubs.
Read more product news