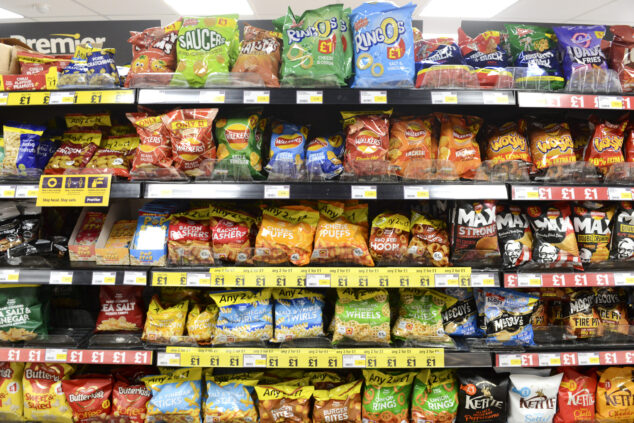 NFRN members have called on rival crisps suppliers to help fill the shelf gaps left by the Walkers availability meltdown.
The news comes as one Walkers rep claimed stores would have to wait until the new year to see the return of Walkers' single packs, as the company continues to battle with the fallout of a failed IT switchover and a fire at its major factory.
The latter incident, on 12 November, resulted in the evacuation of the Bursom Road factory in Leicester, with Walkers stating at the time that it was too early to know how production would be affected.
However, during a store visit on 16 November in Leeds, a Walkers rep claimed the company was prioritising getting Doritos and sharing bags back on sale, with the full range of single bags expected to be the last to return.
EXCLUSIVE: Walkers stops van visits as more than 70 lines become unavailable [FULL LIST]
NFRN member Arif Ahmed, of Ahmed News in Coventry, said: "In my local cash and carry, whole shelves are empty. There are non-price-marked packs, but the prices are higher than the price-marked versions I would usually stock, and the retail margin is lower. It looks like stores are also raising their prices."
A message from Walkers owner PepsiCo sent to Costcutter stores on 11 November claimed it had entered "stage two" of a three-step production recovery plan.
It said stage one was "rationalising" the range to focus on producing a "limited" selection of lines, while stage two is to "expand the available range over the next few weeks".
A Walkers spokesperson said: "We sincerely apologise for the disruption this has caused you and your customers. We are working round the clock to return supply back to an acceptable level as swiftly as possible."
Ahmed added: "Stores are crying out for support in finding replacement crisps products to ensure they don't lose more sales, but I have heard and seen nothing [from other suppliers]. There's a huge opportunity for them to win retailer loyalty and shelf space with store visits and category advice."
Tayto Group marketing director Matt Smith told betterRetailing it was "ramping up" supply to overcome the category's supply challenges.
EXCLUSIVE: PepsiCo enters next stage of recovery plan
Smith added: "We're working closely with our wholesale and van sales partners to get in as much stock as we can for the critical Christmas trading period.
"All of our key brands – including Golden Wonder Crisps, Ringos, Transform-A-Snack, as well as our leading Mr Porky and Midland Snacks pork snacks lines – are available across most wholesalers.
"We would suggest retailers prioritise sharing snacks, especially given £1 PMPs are the largest part of the convenience snacks market, but also ensure that they are still offering a range of impulse and multipacks and not to forget merchandising pork scratchings with beers, wines and spirits to pick up profitable impulse purchases. If supply remains tight, then consider dropping promotions to maximise profits."
KP snacks trading director Matt Collins also said it was "working tirelessly" to "maximise supply and availability", especially of its bestsellers, in light of the current challenges.
He added: "We are consistently supporting retailers with effective merchandising advice which we review regularly," he said, adding that KP Snacks category advice, bestsellers and planograms can be requested at snackpartners@kpsnacks.com
Read more crisps and savoury snack product news