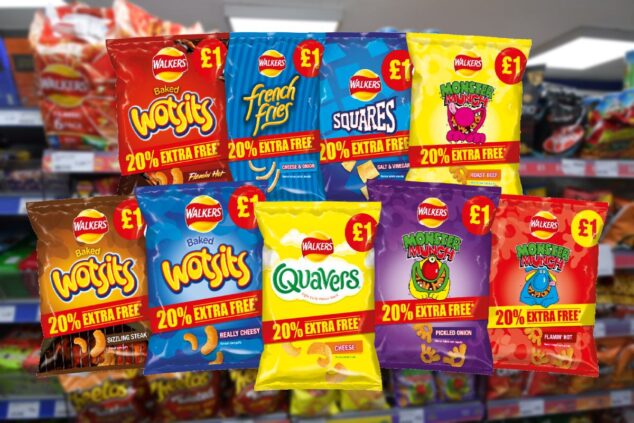 PepsiCo is added 20% extra free bags to nine of its Walkers £1 price-marked packs (PMP) range to help retailers demonstrate value to their customers.
The nine Walkers products benefitting from the 20% extra free are available now and include Quavers, Wotsits, Monster Munch, Squares and French Fries. The 20% extra free will be shown on-pack through a banner.
Walkers Flamin' Hot launched by PepsiCo
The launch will be supported with shopper marketing, including social and digital advertising. PoS kits will be available to retailers to drive visibility of the added-value Walkers products on shelf.
Retailers should speak with their account manager to access materials for in-store and their own social and digital channels, the supplier has said, which will help drive footfall and awareness of the value on offer.
PepsiCo refreshes Scott's Porage Oats packaging
Matt Goddard, wholesale trading director, PepsiCo, said: "Value for money is becoming increasingly important in symbols and independents, as the financial pressure of Covid-19 continues. Sixty-two per cent of shoppers are becoming more careful with their money, which is why we're launching this campaign to give our retailers and shoppers more value.
"Sharing RRP PMPs are the largest segment in convenience and they were the number-one contributor to value sales growth in 2020, growing by 16%. We're focusing our +20% Extra Freeꝉ campaign on this pack type as retailers can also expect to see a strong return.
"Retailers can really benefit from the added value now offered in-store, ensuring they're stocking all nine of these bestselling RRP £1 PMPs snacks and driving awareness of the offering in-store."
Read more product news