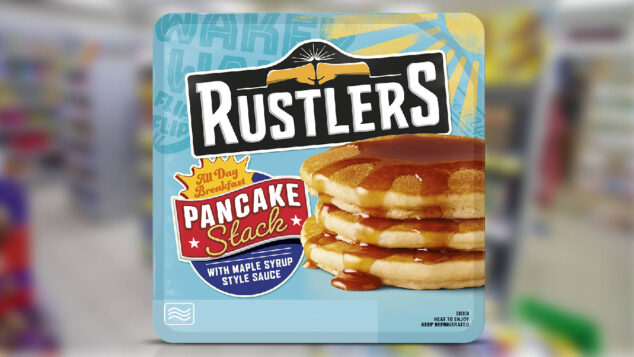 Kepak is expanding its Rustlers range with the launch of an All Day Breakfast Pancake Stack.
Launching as the morning goods category is experiencing 11% annual growth, the chilled product includes three buttermilk pancakes served with a sachet of maple syrup-style sauce.
Elaine Rothballer, head of marketing consumer brands at Kepak, said: "Breakfast is a staple occasion seeing long-term growth, with consumption dominated by a small number of core products. Performance of the category is in part driven by morning goods, including breakfast pastries, bagels and pancakes, which alone are experiencing 23% growth."
Rustlers launches Cook in Box concept into convenience
"When we look at the competitor landscape for pancakes within retail, there is an ambient multi-serve dominance, which presents an opportunity for a chilled convenient offering similar to the well-established variants in quick service restaurants.
"Research shows the All Day Breakfast Pancake Stack performs very strongly on appearance, taste, aroma and texture. The new product also fares competitively against baked goods and desserts, giving our convenience retail partners an opportunity to win footfall from QSRs."
Read more product news