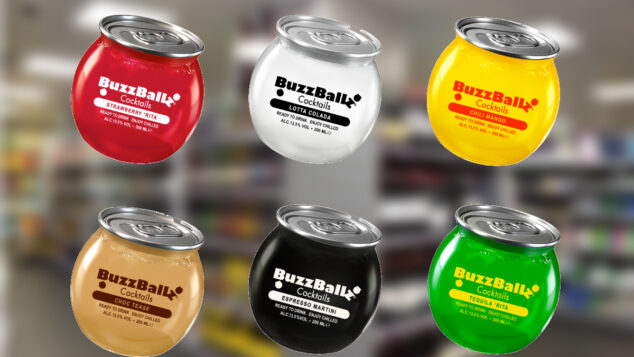 Ready-to-drink (RTD) cocktail brand BuzzBallz has launched in the UK and is now available to independent convenience retailers.
The brand has launched via exclusive distributor Hammonds of Knutsford in six varieties: Choc Tease, Tequila 'Rita, Strawberry 'Rita, Lotta Colada, Chili Mango and Espresso Martini.
Each variety comes in a 200ml ball (13.5% ABV) at an RRP of £3.50 each.
BuzzBallz are popular in the USA, where they are predicted to sell 100 million balls this year. For the UK launch, the supplier is targeting 25 to 40 year olds living in urban areas who enjoy socialising with friends while on the go and outside.
Kopparberg launches trio of RTD cocktail cans
Pre-mixed cocktails are expected to increase their share of the RTD market to 60% by 2024. "We've created a real buzz in the USA and we know there's a huge appetite in the UK for fun, convenient ready-to-drink cocktails that pack a punch," said BuzzBallz founder Merrilee Kick. "The RTD market is a fast-growing category, yet it is crying out for more innovation and excitement. We believe that BuzzBallz can deliver this."
Tim Dunlop, brand director at Hammonds, added: "As the UK gears up for the summer, consumers are seeking out exciting new experiences in a big way, and the colourful BuzzBallz range provides a fantastic solution for the convenience sector. They are fun, different and great for sharing with friends."
Retailers also have access to bespoke PoS materials including counter and chiller racks, signage and FSDUs to drive shopper interest.
Read more product news