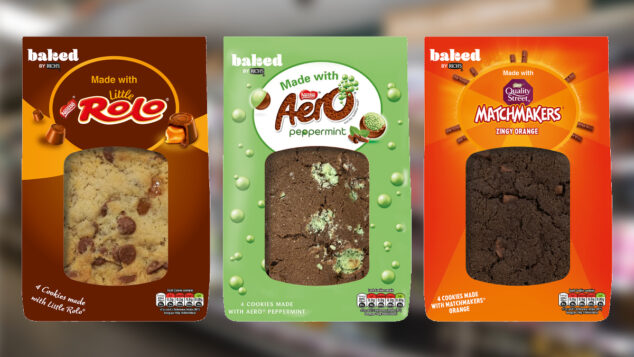 Baked by Rich's and Nestlé Professional have collaborated on a range of thaw and serve cookies.
Available to convenience retailers from August, the Baked by Rich's Made with… range will launch with Matchmakers Zingy Orange, Aero Peppermint and Little Rolo varieties, each with an RRP of £2.29 for a bag of four cookies.
It is designed for retailers who want to offer a fresh bakery option but don't have the space for an in-store bakery.
Border Biscuits repositions itself as an 'accessible premium' brand
Premium cookie sales were up by 20% in 2021 and filled cookies have contributed to this growth.
John Want, sales, marketing and R&D director at Rich's, said: "Our Baked brand is worth over £2.5m since launching in 2020 and this big-name mash-up is the natural evolution of the portfolio. With value on the mind of many in the months ahead, consumers are looking to trusted and well-known goods to guarantee quality.
"Nestlé Professional's portfolio includes some of the most recognised confectionery brands in the world and our development team has loved using these unique and delicious ingredients to create mouth-watering new cookies for independent retail.
French biscuit brand LU gets TV debut with 'Taste of Love' campaign
"With more of us out and about for work and pleasure in 2022, there's a real opportunity to make the most out of the recovering food-to-go sector and offer premium, fresh cookies to shoppers. There is also still a sizable working from home contingent, which provides convenience stores in residential areas with more top-up and treat occasions throughout the day.
"Retailers understand that people want visually enticing products, and the Aero Peppermint product in particular pops with its unmissable bright green chocolate. The cookies will also help maximise online delivery, offering the ideal meal deal partner to go alongside a coffee order."
Retailers interested in stocking the new products are encouraged to contact nestle@rich.com
Read more product news