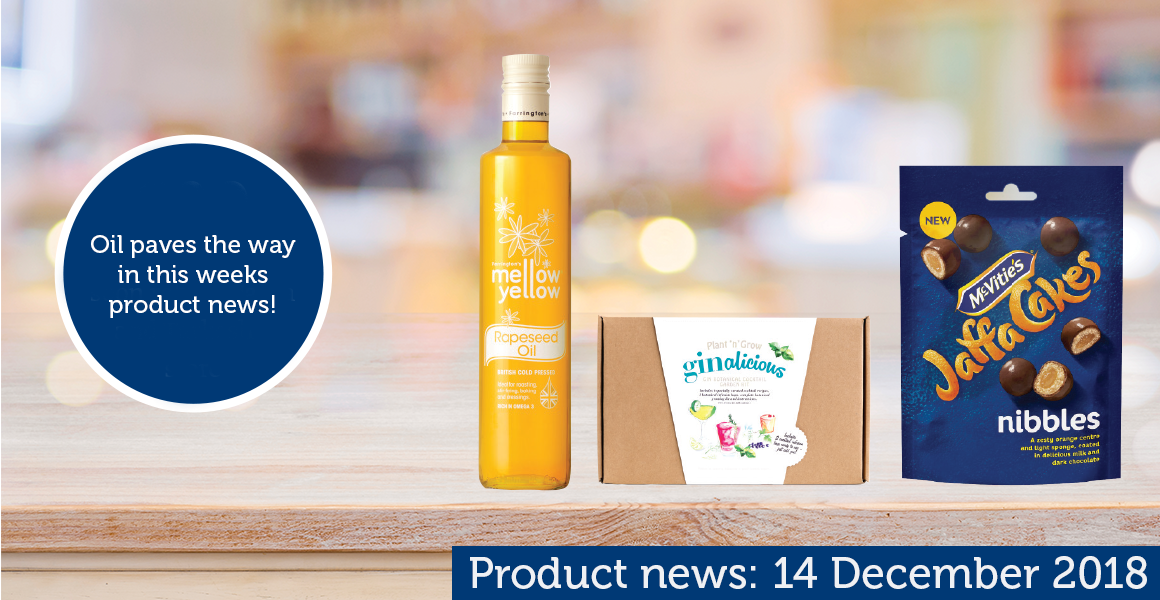 What's new
A healthy new oil for all occasions
Farrington's cold-pressed rapeseed oil is low in saturated fat and high in Omega 3. Thanks to its high smoke point, it is also a versatile cooking oil.
RRP £4.50 (500ml)
Contact sales@farrington-oils.co.uk
Seaweed gets a rum deal from Wales
Barti Rum is a seaweed-infused spiced rum from Wales with notes of vanilla, orange and clove. Best served with ginger beer, or with a slice of orange.
RRP £29
Contact mail@bartirum.wales
Grow your own way with gin
Plant 'n' Grow's Ginalicious kit includes The Gin Botanical Cocktail Garden kit, Organic Citrus & Rosemary Leaf Tea and a hand cream.
RRP £13.95 to £16.95
Contact mandy@plant-n-grow.com
Brand snapshot
Cheesy does it
Lactalis McLelland's cheese brand Galbani has given its packaging a winter makeover in order to capitalise on sales in December and January.
Smashing orangey bits
Pladis is launching McVitie's Jaffa Cakes Nibbles, a new on-the-go and sharing snack that will be available from January 2019.
Better by half
Spar has announced that its Silverbrook Falls Water bottle is now made of up to 51% recycled plastic in a bid to increase sustainability.
So matcha
With demand for matcha products rising, Unilever is expanding its Pure Leaf speciality tea range with three new flavours, RRP £8.99.
Festive fumes
This week sees the festive spirit come to vaping with the launch of Vapouriz's Ohm Baked's limited-edition Cinnamon Spiced Slice, RRP £13.99.
Taste of the west
Ginsters of Cornwall is expanding its range with Bitesize Sausage Rolls (200g) and Bitesize Cornish Pasties (160g), RRP £1.99.
It's cold outside
Mondelez is launching a new outdoor advertising campaign for its Halls brand to help drive retailers' sales during winter.
Good news
Global Brands has unveiled a new campaign for its alcoholic soda brand, Crooked Beverage Co, titled 'It's All Good!'.
Something to chew on
Kervan Gida has announced its Dexters brand will now be listed in Bestway Wholesale and AG Parfetts & Sons.