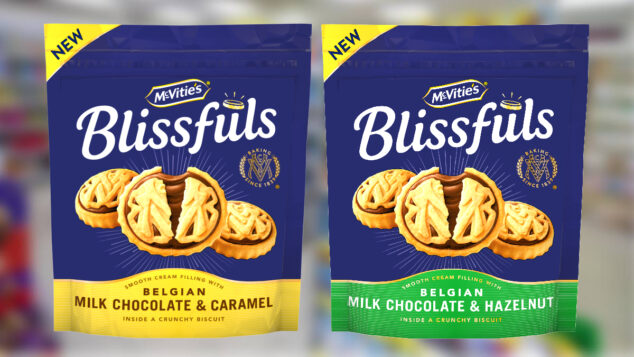 Pladis is set to expand its offering in the treats subcategory of biscuits with the launch of McVitie's Blissfuls.
Blissfuls comprise of a baked McVitie's biscuit encasing a Belgian milk chocolate cream centre, topped with a biscuit lid.
Launching in Caramel and Hazelnut varieties in a 228g sharing bag with an RRP of £2.59, Blissfuls are initially available in Sainsbury's from the first week of January, before expanding to wider availability including convenience and wholesale throughout January and February.
Pladis expands McVitie's V.I.Bs range with Chocolate Cherry variety
David Titman, marketing director at Pladis UK & Ireland, said: "McVitie's has a long-established history of baking the nation's favourite sweet biscuits, and our everyday biscuits like McVitie's Digestives, and everyday treats like McVitie's Chocolate Hobnobs, are firm favourites for morning and afternoon snacking.
"However, there remains an untapped opportunity for sweet biscuits during the evening, where they currently under-index compared with other sweet snacking categories. This means NPD specifically developed for this consumption moment could help drive huge incremental sales for the category – and that's where McVitie's Blissfuls come in."
Pladis will support the new product launch with a marketing campaign primarily targeting younger adults.
Read more product news