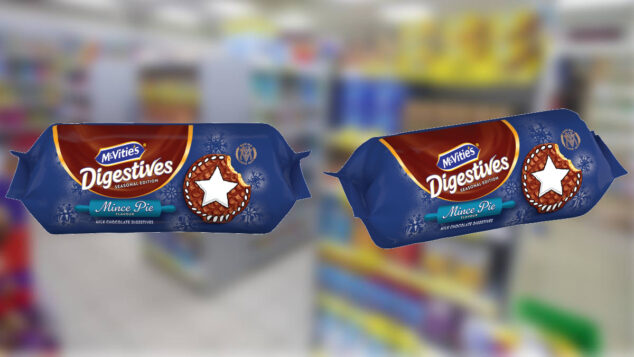 Pladis has unveiled a mixture of new and returning products for its McVitie's and Flipz 2021 Christmas range, as it seeks to help retailers boost sales.
With restrictions hopefully not in place for this year's festivities, the supplier says the seasonal snacking opportunities for retailers will be substantial.
"This year's seasonal snacking sales will be bigger than ever, and are set to exceed last year's £161m incremental opportunity," says Jonathan Bull, marketing director for chocolate, cake and seasonal at Pladis UK&I. "2020 gave us a Christmas like no other, as seasonal celebrations were dampened by the pandemic, with only limited opportunities to reunite with wider circles of friends and family.
"Because of this, we're anticipating Christmas 2021 to be BIG, as consumers make up for the time missed due to last year's restrictions. That's why it's more important than ever that retailers ensure they get their seasonal biscuits fixture right."
Sentimental shoppers plan to splash out this Christmas
New products
Among McVitie's new launches is the addition of a Mince Pie flavour Milk Chocolate Digestives flavour of Seasonal Milk Chocolate Digestives, while Gingerbread and Christmas Pudding flavours return after launching last year. The range has an RRP of £1.59. However, Christmas Pudding will be exclusive to Tesco.
Jaffa Cakes Jaffa Hamper is another new McVities' launch, combining classic Jaffa Cakes with Jaffa Cakes Nibbles, Jaffa Cakes Cake Bars, and a Jaffa Cake Orange & Cranberry 10-pack, with an RRP of £4.
The final McVitie's new launch of the season is McVitie's Milk Chocolate Digestives Gingerbread Slices, a biscuit-cake hybrid with the classic festive flavour. They come in a pack of five individually wrapped bars with an RRP of £1.
Meanwhile, Flipz' new launch is a new Gingerbread flavour, available in a 150g sharing pack with an RRP of £1.50. As well as festive packaging, it has an on-pack promotion offering shoppers the chance to win a PlayStation 5, as well as additional prizes.
Pladis relaunches Better Biscuits platform to help retailers add £21m to biscuit sales
Returning products
Pladis is also bringing back longstanding favourites, including Family Circle and Victoria biscuit collections. The former is available in a 310g box, a 620g box, and a Costco-exclusive 900g box, with respective RRPs of £3, £4 and £4.50. The latter is available in 300g, 600g and 1.2kg boxes, with respective RRPs of £4, £6 and £16.
Pladis is also launching McVitie's Moments Signature Chocolate Biscuit Selection, comprising of 26 premium biscuits in a 400g box with an RRP of £6, giving shoppers a trade-up option.
Additionally, products returning from launches last year include Jaffa Cakes Orange & Cranberry, at an RRP of £1.20, Jaffa Cakes Christmas Pole with an RRP of £3, and Santa Snacks Chocolate Cake Bars, in a pack of seven with an RRP of £1.
"Whether it's a mid-morning treat with a hot drink, or settling down to share a box of biscuits, every product in the McVitie's and Flipz seasonal ranges has been skilfully selected as the perfect sharing treat for a range of consumption occasions," said Bull.
"By stocking up on our festive family favourites, key gifting lines and novelty NPD, retailers can capitalise on increased demand for seasonal snacks, all-the-while attracting a new generation of seasonal shoppers seeking something extra special this festive season."
Read more product news