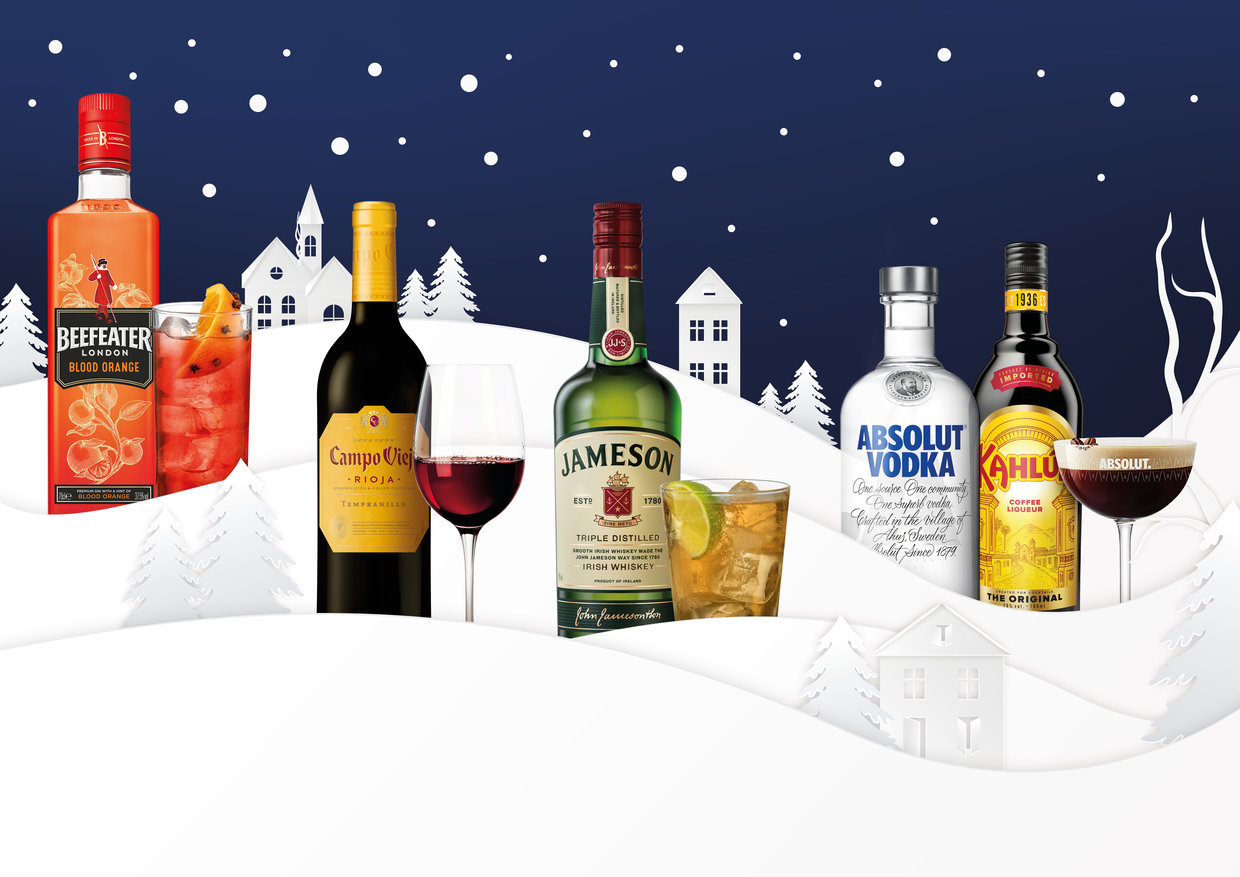 Pernod Ricard UK is encouraging convenience retailers to focus on cocktails at home, alongside gin, vodka, whiskey and wine, to grow sales this Christmas.
Chris Shead, off-trade channel director at Pernod Ricard UK, said lockdown has altered consumer shopping habits, and one of the biggest changes within alcohol has been the shift in consumer spend to convenience stores.
"The trend to shop locally continues to drive impulse sales, and provides an opportunity in the run up to Christmas for convenience stores to become a destination for festive categories, such as whiskey and wine," he said.
"With social distancing measures likely to still be in place, we're predicting the Christmas purchasing period will happen earlier, with shoppers planning ahead of time to minimise time spent in store," he said.
To help retailers with ranging and merchandising, the supplier will be working with field agency McCurrach to visit more than 1,800 stores ahead of the festive period.
Cocktails at home
According to the supplier, 43% of consumers have claimed to have attempted making cocktails at home during lockdown, as a result of the closure of bars and restaurants.
This has led to more people experimenting with serves, with a slight bias towards cocktails with fewer ingredients that are easier to make.
One of the most popular serves has been the Piña Colada, ranking in at number two, which has led to sales of Malibu increasing by 89% in value in stores.
Espresso Martinis have also been a top 10 favourite, with more shoppers adding Absolut, Kahlúa and filter coffee to their baskets during the first 12 weeks of lockdown.
This trend is only set to continue, due to bars and restaurants experiencing a phased recovery, and 46% of 19-34-year-olds saying they would make cocktails at home this Christmas.
Wines & spirits
Research by the supplier has identified gifts and hosting as the main reasons for spirit purchases at Christmas, with hosting accounting for 56% of the times spirits are consumed in December, and 48% of people buying alcohol as a gift last year.
Gin, vodka, Irish whiskey and wine have always been important categories for hosting and gifts at Christmas, however, growth has accelerated in these sub-categories in 2020 during the lockdown period.
IAA Stars 2019: Shop Layout – in association with Pernod Ricard UK
Gin
Gin has seen continued double-digit growth in the past 12 weeks at 38.4%, with the supplier's entire range having performed ahead of the category at 64%.
Beefeater, for example, is growing at 96.5% in stores, while Plymouth experienced 33.6% growth in value during the lockdown period. Since acquisition in June 2019, Malfy has also grown by 21.5% in value.
Malfy joins Pernod Ricard's high-end gin range
Vodka
Vodka is now the second biggest value contributor in spirits after flavoured gin, worth £45.9m.
Absolut is the fastest-growing vodka brand in the off-trade, with it commanding the biggest share in the premium vodka category.
Pernod Ricard launches Absolut Passionfruit
Irish whiskey
Irish whiskey is the second-fastest-growing category behind gin, with Jameson leading the growth.
Jameson is the UK's number one Irish Whiskey brand, growing in value by 22.1% in the off trade, which is seven times faster than the whisky category.
Premium spirits price comparison – Pricewatch
Wine
The popularity of wine has grown since lockdown, as more consumers tend to drink it at home rather than at bars or pubs. This has led to a growth of 27% in value during the pandemic.
Pernod Ricard is ramping up investment in this category, with it claiming the number one and two spots in the red wine sub-category, with Campo Viejo and Brancott Estate, respectively.
Pernod Ricard launches Campo Viejo Rioja Tempranillo in a PMP
Read more product news