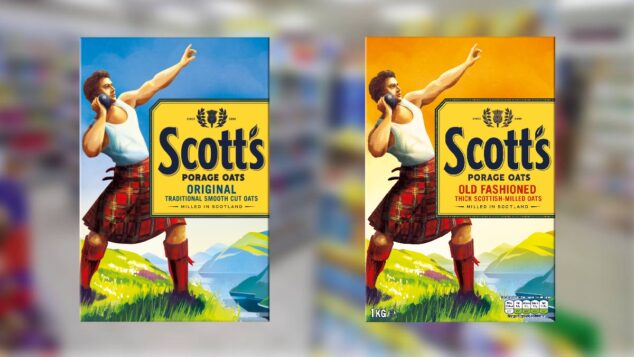 PepsiCo is launching a refreshed look for its Scott's Porage Oats products across all retail channels from today.
The new packaging is launching across Scott's Original and Old-fashioned Oats, and comes as PepsiCo claimed that Scott's continued to outperform the oats segment, with 13.8% year-to-date growth compared to the segment's 8.6% growth.
PepsiCo launches Quaker Porridge to-go bars in PMP format
Intending to highlight the brand's heritage and authenticity, the packaging will feature Scottish phrases and their English translations, instructions on the traditional way to cook oats, and an explanation for the spelling of 'porage'.
Heather Doyle, portfolio and innovation brand manager for Scott's Oats, said: "Over the last year, we've seen consumers continue to appreciate authentic brands and products.
Quaker Oats 'Have 2021 for breakfast' on-pack promotion launched by PepsiCo'
"Scott's is loved for its established Scottish heritage and simple, high-quality product. Our Oats have been milled in Scotland since 1880 and this is something we wanted to celebrate.
"The new look will help to give our traditional image a modern twist for added stand-out on shelf but also shares more of our personality."
PepsiCo is supporting the launch across Scotland with a wider marketing campaign including shopper marketing support.
Read more product news