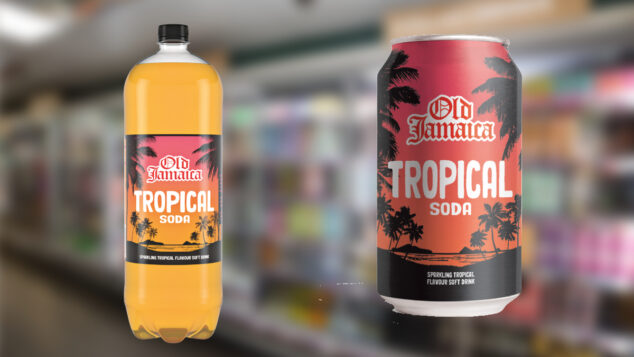 Old Jamaica has overhauled its soda range, with a brand redesign, new Tropical flavour, and a new 2l plastic bottle format.
The new Tropical flavour is available in 300ml can with an RRP of 45p, as well as the new 2l PET bottle, with an RRP of £1.49.
Old Jamaica targets tonic fans with new ginger ale varieties
Additionally, the brand's new design will be visible across its four soda flavours – Pineapple, Grape, and Cream Soda. The new 2l bottle format will also be available for Pineapple and Grape Soda flavours.
Terri Cooper, senior commercial manager at Old Jamaica, said: "When it comes to Old Jamaica Sodas, our range has proven popular with younger consumers but to ensure its continued success we need to offer variety and choice, which is why we have added a new tropical flavour.
Britvic announces on-the-go bottles will switch to 100% recycled plastic
"As more people enjoy soft drinks at home and to suit all drinking occasions, we have added a new two litre bottle format to the pineapple, grape and tropical soda lines. And to create a strong on-shelf standout and appeal to our target audience, we have unveiled a vibrant new design which better reflects Old Jamaica Soda's brand personality."
In support of the new branding, format and flavour, Old Jamaica is running an on-pack promotion to win one million Jamaican dollars (equivalent to £5,000), as well as traditonal advertising, influencer activity, and social media.
Read more: soft drink products, news and articles