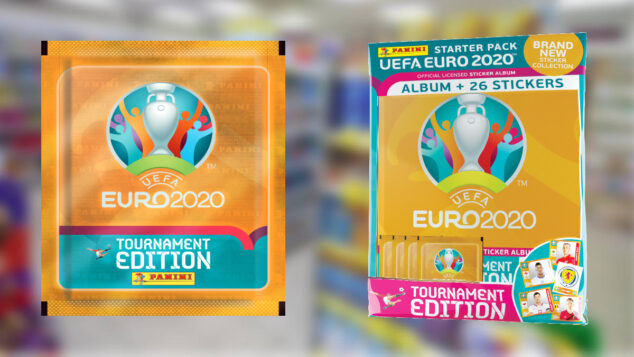 Panini has announced that its official UEFA Euro 2020 sticker collection will go on sale from 25 March.
The collection consists of 678 stickers, including 23 players in each of the 24 qualifying national teams.
Panini's upcoming Euro stickers could drive £40m in sales
There are also special stickers covering different aspects of the competition, such as information about the different host cities, and the history of the tournament.
Stickers will be available in several different formats. A starter pack with a sticker album and 26 stickers will be available at an RRP of £3.99, while an individual sticker pack will have an RRP of 90p.
There will also be a multipack containing six sticker packets with an RRP of £4.99, a tin with 10 sticker packets with an RRP of £8.99, and a multiset with 12 stick packets at £9.99.
Panini is also offering a hardback sticker album at an RRP of £9.99. Panini will also a digital version of the sticker collection. Shoppers can redeem codes found in sticker packs for free digital stickers online.
Panini teams up with Minecraft
Chris Clover, UK head of marketing at Panini, said: "The sense of anticipation for our UEFA Euro 2020 Tournament Edition official sticker collection is huge. Panini sticker collections are the sparks that ignite fan excitement for international football tournaments, and this year will be no different.
"We have created a fantastic product which our collectors will have great fun swapping and completing, and will want to treasure and keep over time."
Panini is supporting the launch with a TV, social media and digital marketing campaign, as well as print newspaper promotions and nationwide sampling initiatives.
Read more product news