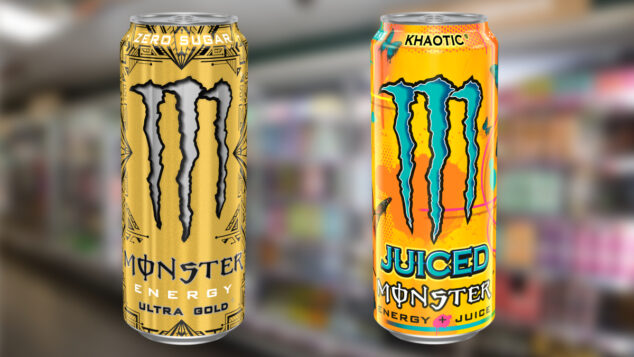 Coca-Cola Europacific Partners (CCEP) has added two new varieties to its Monster energy drink brand.
Monster Ultra Gold and and Monster Juiced Khaotic are both available now in 500ml plain and price-marked cans.
Ultra Gold is the latest addition to the zero-sugar Ultra range. The pineapple-flavoured drink's launch comes as Monster Ultra is the UK's number one zero-sugar energy drinks range, up in value by 41.4%.
Monster Khaotic has a tropical orange flavour and a pack design by American street artist RISK. Currently, the Monster Juiced range is in 60% growth and is worth £75m.
Monster launches new Ultra Watermelon zero-sugar variant
Martin Attock, vice president of commercial development at CCEP GB, said: "Monster has led the diversification of the energy sector in recent years, which has helped energy drinks appeal to more consumers, on more occasions, by offering the choice and great taste of soft drinks, but with added functional benefits.
"Monster delivered more than 50% of energy drinks' £200m growth in 2021, but it didn't just put the energy into energy drinks; it was the biggest value contributor to the entire soft drinks category.
"The latest great tasting variants will bring excitement to the energy fixture and help drive sales for retailers, offering new flavours – with and without sugar – alongside the high-octane marketing and in-store activation that Monster is famous for."
Retailers will have access to PoS materials to highlight the new launches including shelf strips, totems, wobblers, FSDUs and more.
Read more product news