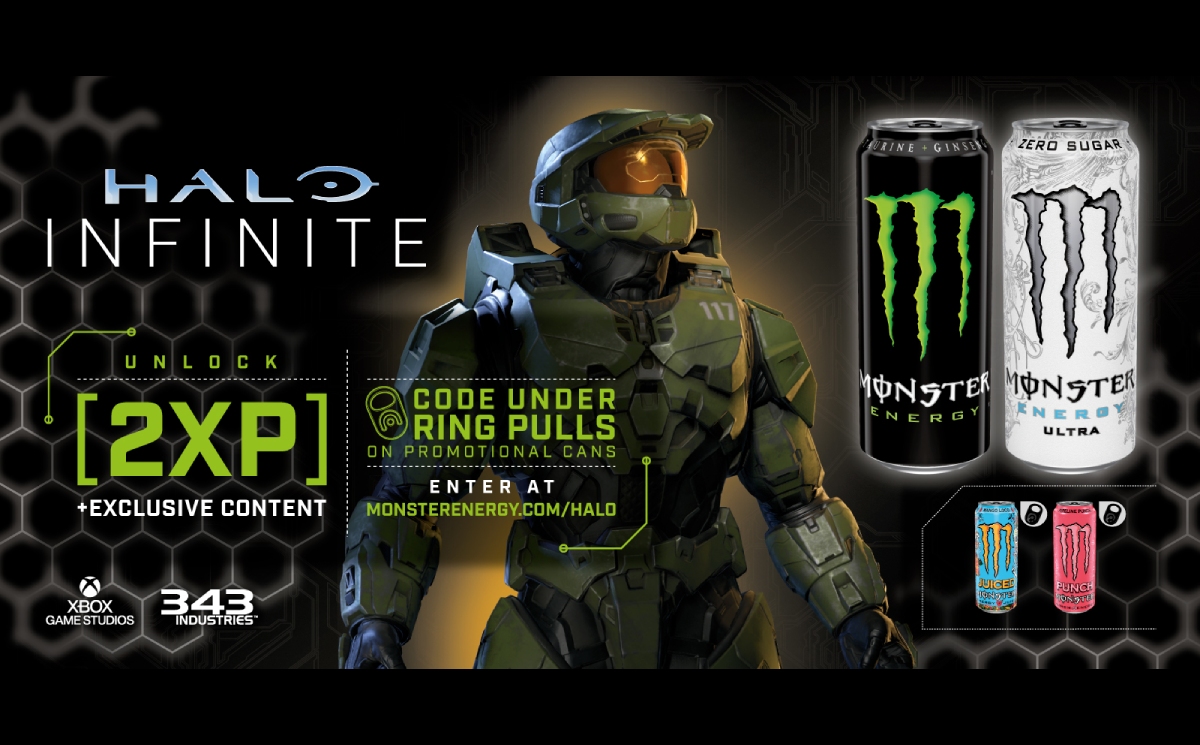 Coca-Cola European Partners (CCEP) has launched a promotion for Monster Energy in partnership with Microsoft's new 2021 Halo Infinite game.
The promotion will be rolled out across its Original, Ultra White, Mango Loco and Pipeline Punch varieties, and codes will be found under the ring-pulls of single and multipack cans.
Consumers will be encouraged collect codes from promotional packs and exchange them for 30 minutes of Double XP Boost to use in the game's multiplayer modes.
Monster Energy racing simulator promotion launched by CCEP
Running until 31 March 2021, shoppers must enter their codes on a Monster microsite, which will then be uploaded to their Xbox Live account – alongside the Double XP Boost, they will receive collectable Monster-branded content that will be added to their inventory, and available in-game when Halo Infinite is released in December.
They'll also be entered into a prize draw to win exclusive prizes, including the new Xbox Series X console.
The promotion will be supported with PoS materials, available from the Coke Customer Hub from 15 October, to help maximise in-store visibility and drive sales.
Monster Energy extends range with Ultra Paradise and Pacific Punch
Simon Harrison, vice president of commercial development at CCEP GB, said: "Gaming is a huge and fast-growing part of the global entertainment industry – accelerated during lockdown as people spent more time in the home. At the same time, the Monster brand has grown in value by 14% over the last year, and has delivered the most value growth to the energy segment totalling to £34m.
Monster Hydrosport Super Fuel now available from Nisa
"We anticipate this momentum will continue over the winter and into 2021, so our advice to retailers is to stock up on promotional packs and supporting PoS to take full advantage of this sales opportunity."
Now in its 17th year, the Halo franchise has sold over 79 million games worldwide, making it one of the biggest names in the gaming industry.
Read more product news