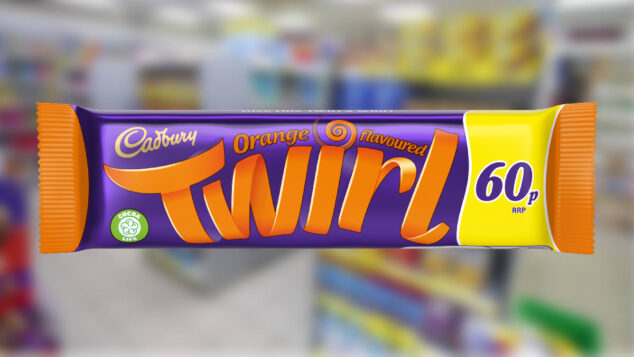 Mondelez has announced that its Cadbury Twirl Orange will be available in a 60p price-marked pack (PMP) from October.
The new format follows the supplier making the previously limited-edition product a permanent addition to its range earlier this year after strong consumer demand.
Mondelez unveils limited-edition Cadbury Wispa Gold Hazelnut flavour
Sales of orange standard chocolate are now worth £25.9m, having growing by 47%, far outstripping that of standard chocolate sales, which have grown by 6.9%.
Mondelez hopes to drive further sales through the perceived value of PMPs, which reassure shoppers they are not being overcharged. A fifth of shoppers say they would choose a particular convenience store if they knew it stocked PMPs.
Radhika Pai, Brand Manager for Cadbury Singles at Mondelēz International, said: "After the incredible response from Twirl fans and retailers, we had to make Cadbury Twirl Orange a permanent line. And now, the combination of Cadbury's most popular single bar in a price-marked pack is something shoppers won't be able to ignore.
Cadbury two for £1.10 PMP available for three months from July
"In fact, Cadbury Twirl Orange is already the third best-selling bar in the adults single market. We know shoppers will appreciate the improved value they are getting from buying their favourite bar in a price-marked pack – and the benefits to retailers stocking this."
The new PMP will be available to retailers in a case of 48 bars.