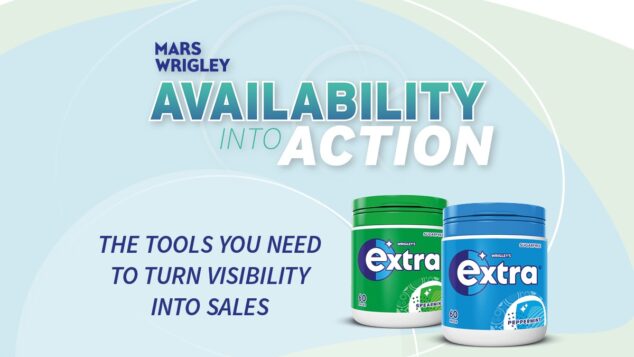 Gum occasions have expanded following the pandemic with consumers realising they can enjoy gum in a variety of ways. In addition to on-the-go missions, consumers are also interacting with gum in active and non-active occasions.
The number-one reason why consumers chew gum is to freshen breath. This could be after a meal or a cup of coffee.  More than 40% of consumers site they chew gum simply because they enjoy it, for example, when relaxing at home. Enjoyment has also led to the drive of fruity gum sales as 90% of consumers report they like or love the Extra Refreshers range¹.
Other occasions include 'Focus'. This occasion includes activities like gaming or working out. In a busy world, consumers find chewing gum helps them stay focused.
Gum sells
Extrais the third-largest confectionery brand for independent retailers² with core flavours being Peppermint and Spearmint
An average convenience store sells 100 cases of Wrigley gum a year
Gum is four times more impulsive than water
We continue to see gum singles and bottles perform well in convenience. When looking at which lines to stock, retailers should look at the top five bestsellers for Mars Wrigley, which are:
Gum singles
Extra Peppermint Pellets
Extra Spearmint Pellets
Extra Cool Breeze Pellets
Extra White Bubblemint Pellets
Airwaves Menthol & Eucalyptus Pellets
In terms of time of day when gum sales perform strongly, more than 50% of gum occasions take place in the morning. This is likely to be when consumers are traveling to work and picking up morning coffee or, when those working from home take a desk break to grab a snack and gum. This is a great time to remind shoppers that gum is a complementary purchase.
Visit www.AvailabilityintoAction.co.uk for more advice today
---
Sources:
¹ Students survey 2020, +6,500 responses
² Nielsen Scantrack Total Confectionery Total coverage MAT w/e 12.06.21