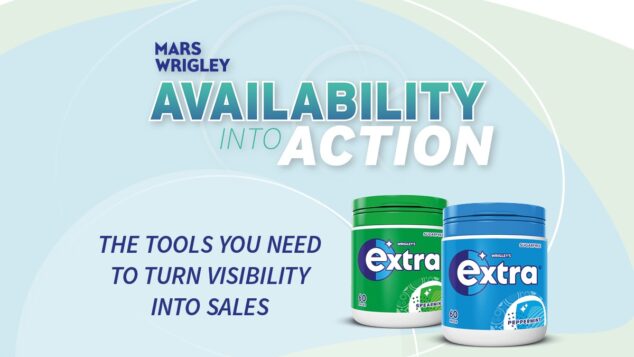 Gum is a key segment for driving incremental spend of profitable items in store.

As many gum purchases are unplanned, and a majority of impulsive purchases are driven by seeing the product in store, it is important for retailers to merchandise effectively by the tills to maximise these incremental sales opportunities.
This month, we have launched AvailabilityintoAction.co.uk, a trade focused resource that provides retailers with simple tips and advice to create effective fixtures that tap into the lucrative consumer gum and mints opportunity.
This site serves as a hub for retailers to find solutions to challenges and gain the valuable sales insight they need to make their sales bigger and more profitable.
The 'transaction zone' at tills is where retailers will find success with mints and gum sales so for optimal visibility. Stock product just below eye level or at 'buy level' for great results – gum fixtures on counter tops within one meter of the till drives a 30% sales increase
Availability is also key in driving incremental sales. Well stocked primary and secondary locations in-store can help retailers drive product awareness and boost sales – 46% of gum shoppers won't buy anything if the specific product they want is not available1
Core lines such as Extra Peppermint 10pc single pack, should be kept well stocked. Extra's core flavours, Peppermint and Spearmint, for example, are the top performing varieties and are worth over £78m2
Other 'must stocks' include single packs of Extra Spearmint, Extra Cool Breeze, Extra White Bubblemint, Airwaves Menthol & Eucalyptus, along with gum bottles and fruity flavours like Extra Refreshers Tropical, which help recruit new gum shoppers
Simply having the right products in the right places allows retailers to capitalise on the easy, extra sales. This is more critical than ever as the UK returns to pre-pandemic movement patterns.
Category advice and more is all available on the Availability into Action website.
Visit www.AvailabilityintoAction.co.uk for more advice today
---
1 Snacking & treating usage study, Kantar, 2017
2 Nielsen Scantrack – Total Gum – Total coverage MAT w.e. 12.06.2021